Gastric dilatation volvulus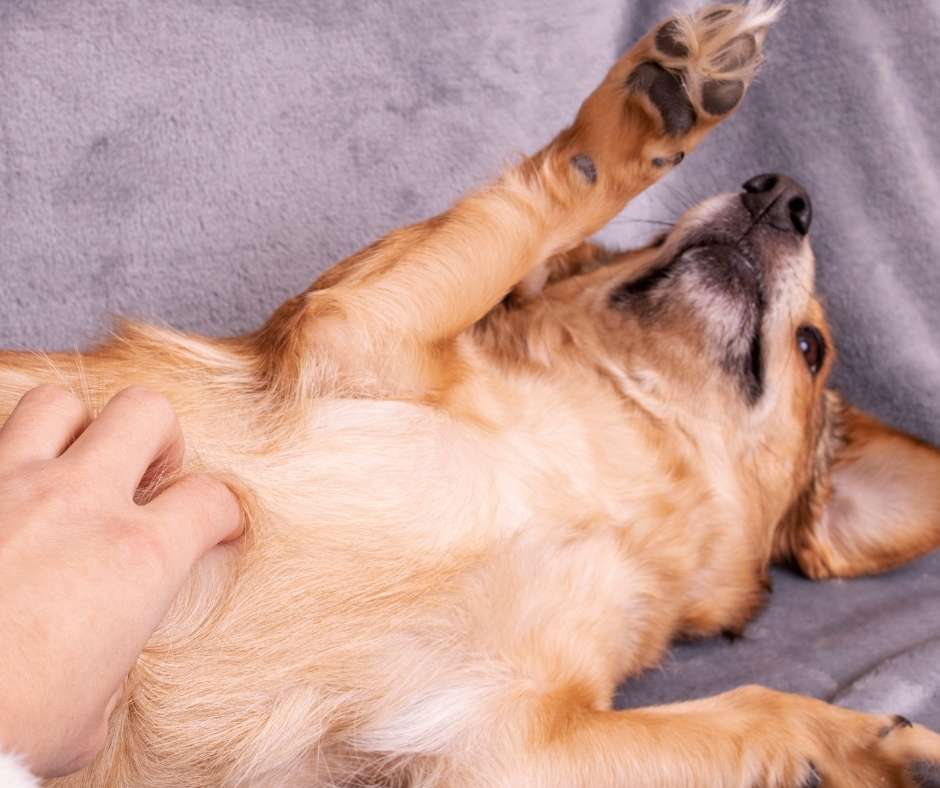 My dogs abdomen is distended and he's acting very restless
It's a scary situation when your dog looks like he has a bloated tummy, but he's really experiencing a life-threatening medical emergency. Gastric dilatation volvulus or GDV is also called bloat, but it's more than just a bit of air in the stomach. Its other name – gastric torsion – describes how, once inflated with air, the stomach can also twist around itself and cut off blood supply to other major organs. The body then goes into shock and the condition becomes life-threatening.
Heart diseases in dogs
My dog has a strange cough and fatigues easily
It is estimated that a little over 10% of all pets have some form of heart disease. There are many different reasons for the presence of heart disease – from genetics to poor diet, ageing, illness/infection and obesity – but what is common among all types of heart disease is that the condition does not simply go away on its own. It is usually progressive and, depending on how severe the symptoms are and when the dog is diagnosed with the disease, it can eventually lead to heart failure.
Heart diseases in cats
My cat seems to have breathing difficulty and is lethargic
The American Veterinary Medical Association suggests that one in 10 cats across the globe is either born with or develops some form of heart disease in their lifetime. There are a number of different types of heart disease in felines, but all of them present with some kind of abnormal structure or function of the heart's chambers, valves or surrounding muscle.
Understand the life cycle of fleas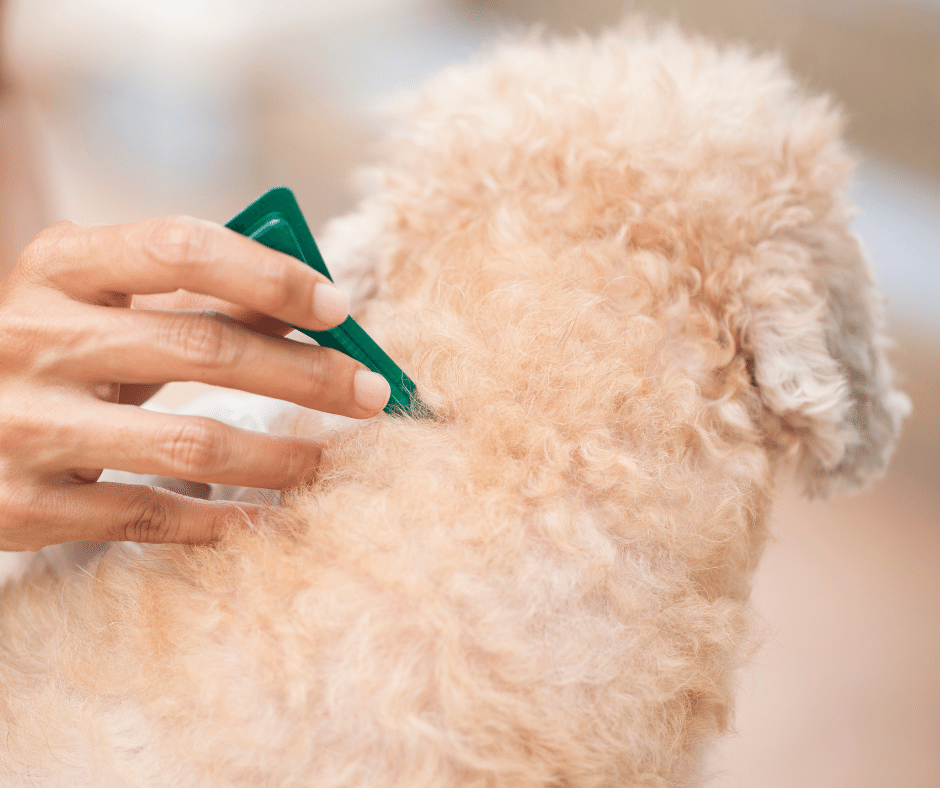 How can I get rid of my pet's fleas once and for all?
Tick and flea treatments for our pets promise quick and lasting results and are usually very effective when administered correctly. However, these treatments – including chews, spot-on liquids and collars – may not be able to get rid of flea infestations completely when pet owners don't tackle each stage of the flea's life cycle head-on. Understanding the life cycle of the flea is the key to eradicating this nasty pet pest.
Veterinary etiquette
What you should know about taking your pet to the vet
If you've noticed that your pet's behaviour is off or they are showing worrying symptoms, don't hesitate to call the vet and schedule an appointment. However, this is just the first step in your responsibility towards your pet and in dealing with a veterinary practice. Your pet's condition may cause you to act emotionally or to forget important symptoms or information.
Eosinophilic granuloma complex in dogs and cats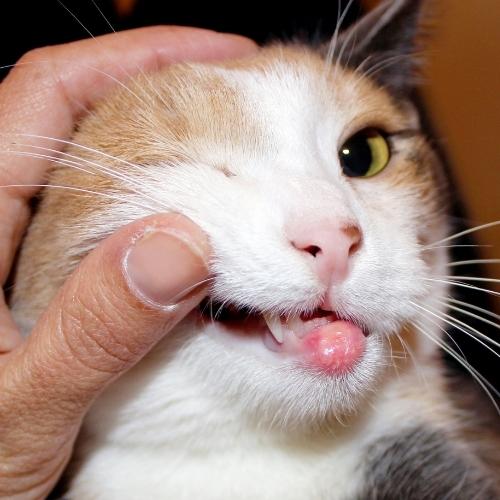 My cat has a strange sore - almost like a fever blister - on her upper lip
What is eosinophilic granuloma complex?
Eosinophilic granuloma complex (EGC) is a disease complex that presents in three main forms, namely an eosinophilic ulcer (also known as a rodent or indolent ulcer), an eosinophilic plaque or an eosinophilic granuloma. These conditions are more commonly found in cats and horses, and only occasionally in dogs.
Urolithiasis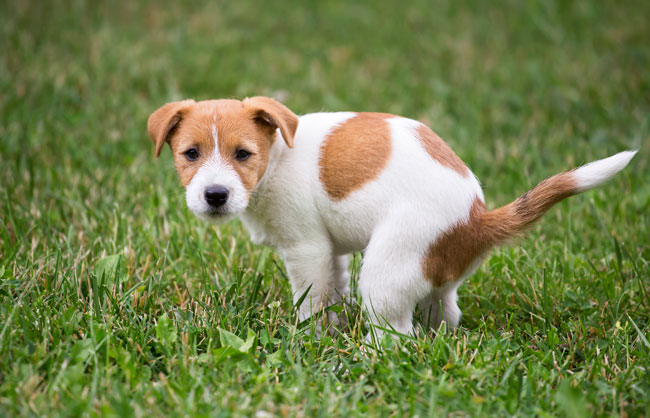 My pet has begun to pee a lot more frequently, but in smaller amounts. Even though she's house-trained, she still pees in the house and sometimes there is blood in her urine.
What is urolithiasis?
Urolithiasis is the long-winded Latin term to describe the development of bladder and kidney stones. The term 'uro' describes the urinary system, while 'lith' means stone.
Rabies
I've heard on the news that there's a new outbreak of rabies in dogs. What are the symptoms and what should I do?
Towards the end of June 2021, the Gauteng Department of Agriculture and Rural Development (GDARD) informed the public of an outbreak of Rabies in the Cradle of Humankind area. Near the end of August 2021, the Western Cape government issued a warning of a new rabies outbreak and encouraged pet owners to ensure their pets' rabies shots are up to date. In early August, three women were attacked by a honey badger and tested positive for rabies, while earlier in September, a young boy in the Eastern Cape died from rabies as the result of a dog bite. Traditionally, rabies was considered to be restricted to Kwa-Zulu Natal and KZN was declared an endemic area for rabies. Unfortunately, it is no longer the case and the whole of South Africa is now considered endemic.
Eclampsia in pets
My dog/cat recently had puppies/kittens and is starting to show strange twitches and spasms
What is eclampsia?
Eclampsia is a life-threatening condition in dogs and cats that have recently had a litter of puppies or kittens. It has been seen in pets that are pregnant or giving birth, but more commonly occurs one to four weeks after giving birth. It is a medical emergency caused by a sudden drop in blood calcium levels, usually due to calcium loss during pregnancy and nursing.
Pet heroism
Who is saving whom? How pets improve our lives
Carey was sitting on the kitchen floor; the low downlights hardly penetrating the shadows reflecting her sombre mood. It had been an incredibly tough year and she was at that point of wondering what it was all for. Her neighbours had moved out, friends were few and far between; there was hardly anyone to miss her – not immediately anyway. What was stopping her from doing something stupid with the paring knife in her hand? At that moment, the silence in her flat was punctuated by the unmistakable sound of little dog paws on tiles and then two fuzzy heads peeked out from behind the kitchen cupboard. Both her miniature pinscher and chiweenie flattened their ears against their heads and wagged nervously, but mustered all their courage to approach their teary-eyed human in that dark hole on the kitchen floor. With hands full of furry friends, there's no room for despair and hopelessness. Carey had saved them once upon a time, and this was just their way of returning the favour. What was stopping her indeed?
Dilated cardiomyopathy (DCM) in dogs and cats
My pet tires quickly when playing or exercising and sometimes has a soft cough like trying to clear their throat
What is dilated cardiomyopathy?
Cardiomyopathy is a disease condition of the heart muscle that inhibits its ability to function properly. In the case of dilated cardiomyopathy (DCM), the heart muscle is stretched and the muscle is thin and flabby, affecting its pumping ability. Dilated cardiomyopathy can affect both pets and people.
The heart is designed as a pump where each contraction pushes blood from the lungs to the rest of the body and back again. This allows the oxygen we breathe in to be absorbed in the blood and distributed to where it is needed. When the pump itself is affected, the distribution and flow of blood is compromised. In DCM, the bottom chambers of the heart, which are the power house for the pumping action, are dilated and thin, and unable to properly expel the blood presented to them from the lungs and body. This leads to a backup behind the heart. Depending on which side of the heart is more severely affected, this usually ends up with fluid and blood buildup in the lungs. In DCM, it is usually all four chambers of the heart that are stretched and affected, not just one side. This stretching of the muscle also affects the electrical conduction of the heart and its ability to pump at a normal rhythm.
COVID-19 and Your Pets: Update
The SARS-CoV-2 Virus
It has been more than a year since COVID-19, caused by the coronavirus SARS-CoV-2, has been declared a worldwide pandemic. Much research has been done regarding many aspects of the virus, the disease process it causes as well as the spread of the virus. In the wake of the anticipation of South Africa's 'third wave' of COVID-19 infections, this article serves as a follow-up discussion regarding information that has come to light in the past year.
Domestic pet poisoning
My pet may have eaten something poisonous. How do I know if she will be alright?
Poisoning is a common occurrence in domestic animals like dogs and cats. The most widely observed route of poisoning is via the mouth (orally), but topical poisoning and other routes of intoxication are also possible. No matter the route of poisoning, it's critical to treat each individual case of poisoning as a matter of urgency, as some poisons could be life-threatening for the pet. In this article, we give an overview of the most commonly encountered poisons in private practice in this part of the world.
Malicious poisoning of dogs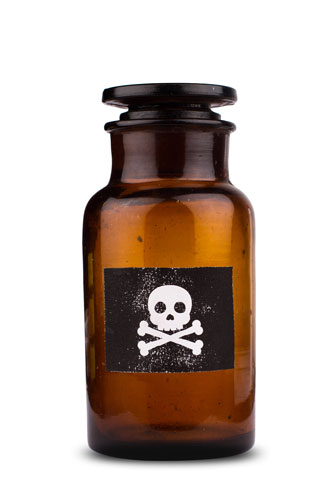 I think my dog has been poisoned! What must I do?
What poisons are used on dogs?
The most commonly used poisons are organophosphates (malathion, disufloton, acephate, parathion), carbamates (Aldicarb, Temik/'two-step') and rat poison. Organophosphates and carbamates are insecticides used for both agricultural and household applications. Temik is often used despite being a restricted substance, and may be combined with other substances. The tiny bluish-black granules, which are white on the inside when crushed, are commonly hidden in something tasty such as a piece of sausage, polony, meat or bread. Clinical signs of poisoning start within minutes to hours after exposure to the poison. Temik can kill dogs very quickly or even suddenly due to a build-up of secretions in and/or paralysis of the breathing system.
Coughing
My pet seems to have a persistent cough. What caused it and what can I do about it?
Coughing is one of the most common syndromes veterinarians all around the world encounter during consultations. Coughing in itself is not a disease, but a symptom of something else in your pet. The onset, type of cough, duration and production will help the vet to get to the bottom of what's going on inside your pet.
What is coughing?
Coughing is an audible, forceful expelling of air from the lungs usually in an attempt to clear the airways. Forceful expulsion of air should follow forceful inhalation for the whole action to qualify as a cough. A cough is actually a protective reflex of the body, which signals the presence of an underlying condition. Coughing is generally classified into two main categories namely a wet/productive cough or a dry/non-productive cough. A wet cough is one in which there is an accompanying fluid or mucous discharge seen with each episode; while a dry cough has no discharge or fluid.
PERIANAL FISTULA
My dog has sores around his anus, which he is constantly licking. He also gets aggressive if I touch his tail and he seems uncomfortable and is just not himself. What's wrong?
Perianal fistulas are an extremely painful medical condition of the anal region of dogs. As the name describes, this condition involves infection in the skin and surrounding tissue of the anus. 'Peri' means around, the anus, while a fistula is a tunnel in the skin that connects an area of infection to the skin or glands. This condition is characterised by very smelly draining sinus tracts in the skin around the anus and sometimes the deeper structures beneath the skin up to the rectum.
Corneal Ulceration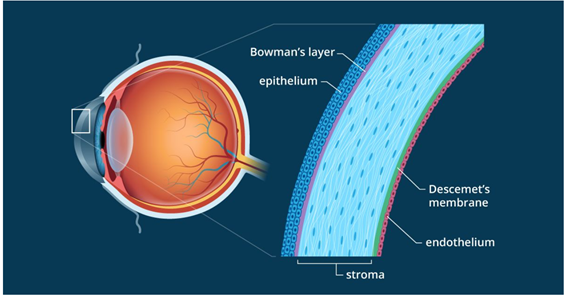 My pet's eye is half closed and there seems to be something in their eye
My pet's eye is half-closed and there seems to be something in their eye
What is a corneal ulcer?
Chronic diarrhoea in dogs and cats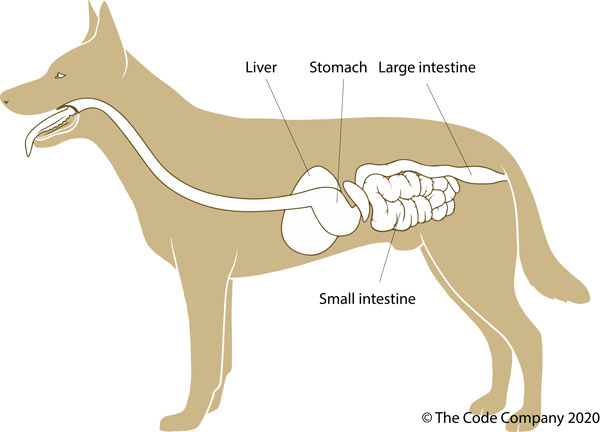 My pet has recurring episodes of loose stools
What is chronic diarrhoea?
Chronic refers to a disease that has been ongoing, either persistently or intermittently for three weeks or more. Whereas diarrhoea, as many of us can relate, is the passing of soft or loose stool. This stool is usually soft enough that it needs to be scraped up rather than picked up. It can range from the consistency of thick porridge to watery like soup.
Acute Abdomen
My pet won't eat, has a distended belly, is retching, and appears restless and in pain. She seemed fine yesterday, what could be the cause?
Now and again pet owners are faced with emergency situations when their pets are suddenly in severe belly pain. Unexpectedly, both the owner and the pet are in a moment of anxiety and distress. So what could possibly be going on? This sudden severe belly pain is what veterinarians call an acute abdomen.
What is acute abdomen?
Acute means to happen suddenly, while the abdomen is the lower part of the trunk of the body, often referred to as the belly. The term acute abdomen refers to sudden pain in the belly. This sudden, severe pain in an animal's belly should be treated as an emergency and requires immediate evaluation and response by the vet.
My pet has put on weight and is acting slow and lazy. His hair is falling out and he has recurring skin infections. He also seems cold all the time. What's going on?!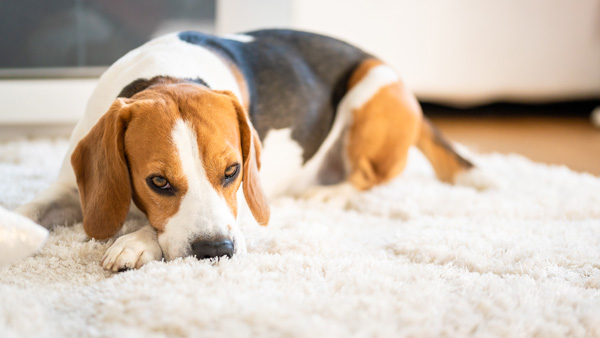 Hypothyroidism
What is hypothyroidism?
As with humans, hypothyroidism is caused by low levels of thyroid hormone being produced by the thyroid gland, which is located on either side of the throat. Since the thyroid gland is part of the endocrine system, any decrease in thyroid hormone secretion has an effect on multiple systems in the body that rely on hormones to function properly – like the metabolism.
My pet lost a patch of fur and developed a massive sore overnight. It looks like a burn wound.
Hotspots (Acute moist dermatitis or moist eczema)
Acute moist dermatitis is a skin ailment in pets that's caused by a trigger like an itch or pain, and exacerbated by the pet's scratching and licking until it becomes a large bare patch of painful skin lesion. Since the lesion is an open painful wound, it's referred to more commonly as a hotspot.
Acral lick granuloma
My pet does not stop licking his leg and has a huge sore where he licks
When a pet owner brings their animal in to the vet with a firm, raised, angry red bump on the pet's leg or ankle, complaining that the animal (a dog more often than a cat) won't stop licking at it, the vet knows that there is a potentially long road of diagnosis and treatment ahead. The symptoms and behaviour described here are common in what's called acral lick granuloma.
Telemedicine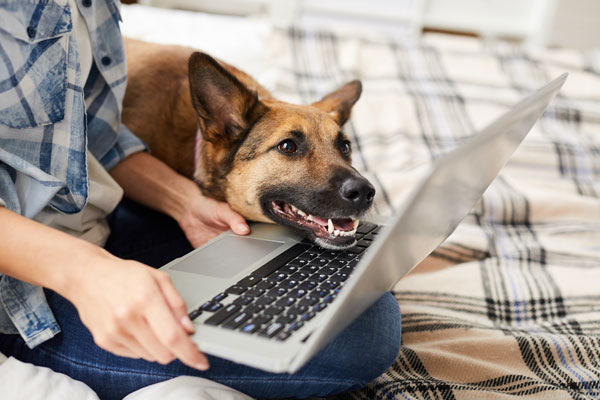 Zoom vs the zoomies: Should pet owners expect their vets to rely on telemedicine during and post-Covid-19?
The Covid-19 pandemic has swept the world into unchartered waters. As humans and as veterinarians, we are trying to adapt to the 'new abnormal', which requires navigating between providing the best care to our animal patients and ensuring the safety of their humans – you – and our staff. One of the solutions available to vets, which has quickly gained traction in the human healthcare sphere, is telemedicine: providing healthcare via the internet.
My dog is tilting his head to the side, and seems to be off balance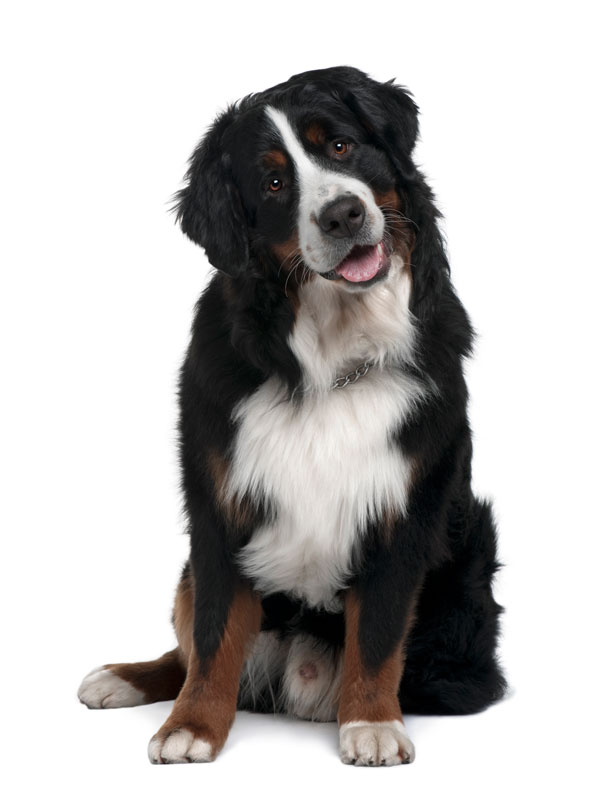 Head tilt - Vestibular disease
The vestibular system
The vestibular system is the body's 'balance messenger' – giving mammals (including humans and pets) key sensory information that allows us to stay upright and properly orientated in the world. The vestibular system is made up of two main components: the inner ear and the brain.
Is my dog ill?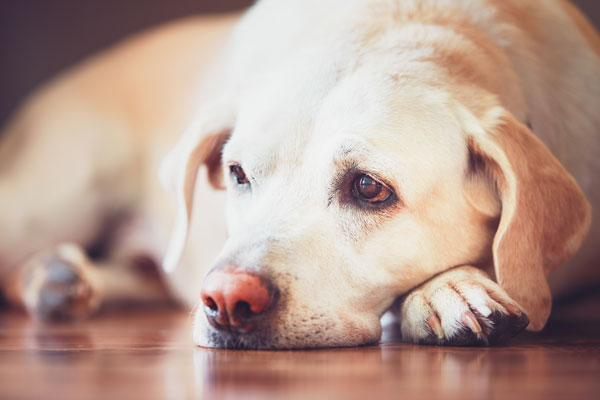 Common signs of illness in dogs
Thanks to the nationwide lockdown, we'll all be spending the next three weeks in the constant company of our furry friends. As the days go by, you may notice some behaviours or signs in your dog that you haven't noticed before and may wonder if these are cause for concern. This article will outline the most common signs of illness that you may notice in your dog.
Is my cat ill?
Common signs of illness in cats
Thanks to the nationwide lockdown, we'll all be spending the next three weeks in the constant company of our furry friends. As the days go by you may start noticing some behaviours or signs in your cat that you haven't noticed before and may wonder if these are cause for concern. This article will outline the most common signs of illness that you may notice in your cat.
Coronavirus and your pets
Now that the coronavirus has hit South Africa's shores, and several people have been confirmed to have the disease, COVID-19, there are many pet owners who are concerned about how COVID-19 will affect them and their pets.
Now that the coronavirus has hit South Africa's shores, and several people have been confirmed to have the disease, COVID-19, there are many pet owners who are concerned about how COVID-19 will affect them and their pets.
Background
Coronavirus disease 2019 (COVID-19) is a disease caused by the coronavirus SARS-CoV-2. The source of the coronavirus is believed to be a 'wet market' in Wuhan, China, which sold both dead and live animals including fish and birds. Currently, there is no evidence suggesting a specific animal host as a virus reservoir, and further investigations are ongoing.
SEPARATION ANXIETY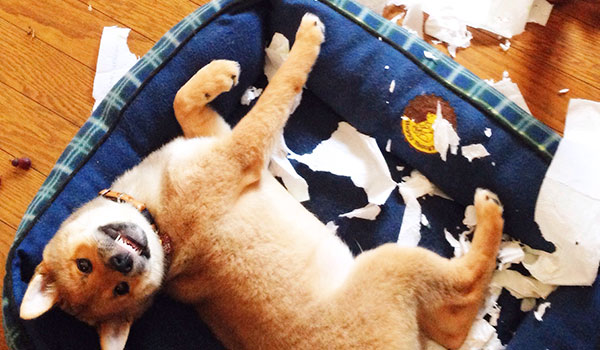 What it is, the symptoms, causes, diagnosis, treatments, and if it is preventable.
What is separation anxiety?
Separation anxiety is a state of distress experienced by a dog or a cat (for our purposes) upon anticipation and/or the realisation of having been left behind by (separated from) the owner and/or other household members (including other pets). It is a behavioural or physical response exhibited by the affected animal and also has a biochemical component at play. It is not uncommon to find pets suffering from separation anxiety who also experience other anxiety-related conditions such as phobias of thunderstorms, loud noises and fireworks.
Making 2020 the best year ever for your pet
10 New Year's Resolutions for your Pet
As we enter a new year and a new decade, many of us make New Year's resolutions for ourselves. This a great time to reconsider one's priorities and establish the foundation for better living habits. Why not do the same for our pets?
1. Make sure they are safe
Depending on which part of the country you live, your surroundings may differ. These days in the big cities, most of us have high walls or fences around our properties. This is usually a great way of keeping unwanted intruders from coming into our personal spaces, but how does it affect our pets? Growing up behind large walls and being confined for most of their lives means that our pets are probably not street smart, at least not to the level of a few decades ago where most properties had no walls or fences around them. Many people these days have electronic gates controlled with remotes which allows one not to have to get out your car to physically open the gate when arriving home. Dogs are social creatures by nature and are also curious, which mean every time the gate opens, they are likely to be tempted to explore the outside and go and "take a sniff" on the pavement. If your dogs have been properly trained, they will likely respond to your calling them back into the property if they do run out. However, if they have not been properly trained, the likelihood of them running into the street and being hit by a car becomes a much bigger risk. Training can be high on your list of New Year's resolutions for your dog, if you have not done so yet. If your dog is not properly trained yet, you will have to ensure there are means inside the property to prevent him or her from getting out the gate. This may take the form of physical barriers like a fence or alternatively may take the form of a correctional collar which the dog wears which emits a tiny electrical current any time the dog comes close to the motor gate, making them associate the vicinity of a motor gate with an unpleasant experience. This will prevent them from running out the gate.
My little dog is coughing often and sometimes seems to struggle to breathe.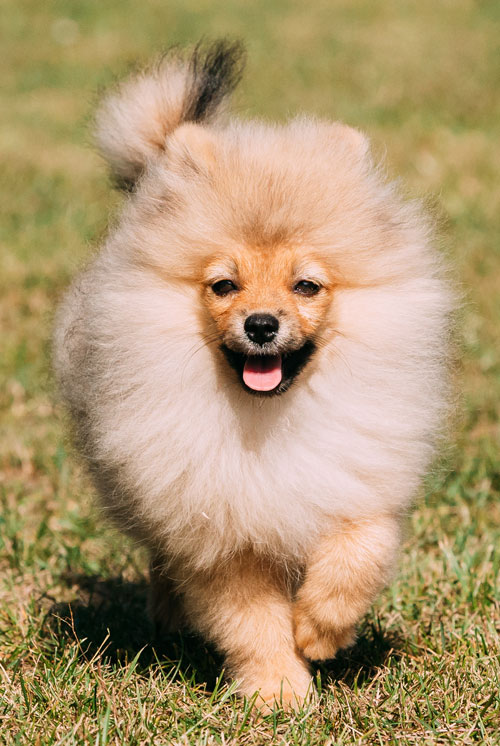 Tracheal collapse
What is tracheal collapse?
Tracheal collapse is a common cause of coughing and airway obstruction in dogs. The trachea, which is also known as the "windpipe", provides the air supply from the outside to the lungs. The trachea can be thought of as resembling a vacuum cleaner pipe. It is a flexible but firm tube that is reinforced by strong cartilage rings. These rings are not complete but rather "c-shaped", with the open end of the "c" facing to the inside of the neck with a ligament attaching from the one end of the C to the other. Sometimes these cartilage rings weaken and cannot hold their shape causing the trachea to narrow or even close, making it more difficult for air to pass through.
How that cute puppy came to cost you R 150 000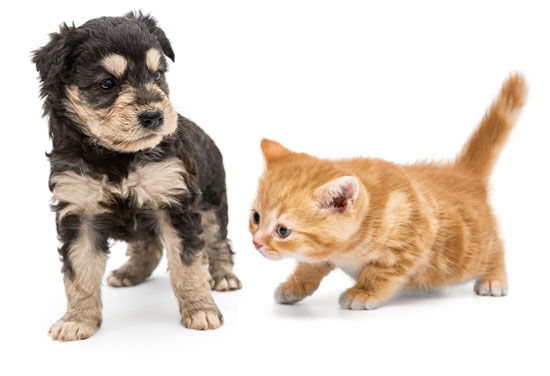 The true cost of owning a pet
We are approaching that time of year when people are considering what to gift people for Christmas and as is often the case, a cute puppy or kitten comes to mind. Many people do the noble thing of going to a shelter or a welfare organisation to adopt a puppy or kitten for a mere R 650. What they fail to realise is that that cute puppy or kitten is not just a R 650 worth purchase but more likely a R 65 000.00 one, or in some cases up to a R 150 000. How is that possible or what do you mean, you might ask?
My cat is eating like crazy and not picking up weight
Hyperthyroidism in cats
What is hyperthyroidism?
Hyperthyroidism is a condition that arises from an excessive production and secretion of active thyroid hormones by an abnormally functioning thyroid gland. First recognised in the late 1970's, the frequency of diagnosis has escalated dramatically - currently it is the most common endocrine (hormone system) disease in cats and also one of the more frequently diagnosed disorders in the veterinary field. The condition is estimated to affect 1 in 300 cats.
My Dog is Pregnant
Midwifery 101 - What to expect when your dog is expecting
Is my dog pregnant?
In the days before high walls and fences in South Africa, it was quite common for dogs to roam around freely in cities and towns; and it was not uncommon to discover out of the blue, that your female dog at home may be pregnant without you knowing how she fell pregnant.
Having said that, in those days most people who had an un-spayed (unsterilized) bitch at home, would have known very well that she was "in season" or "on heat", which is the time the female dog is ready to ovulate and mate, because the whole neighbourhoods' male dogs would have been howling at the door for "a piece of the action".
My Collie is bumping into things and seems to have difficulty with its eye sight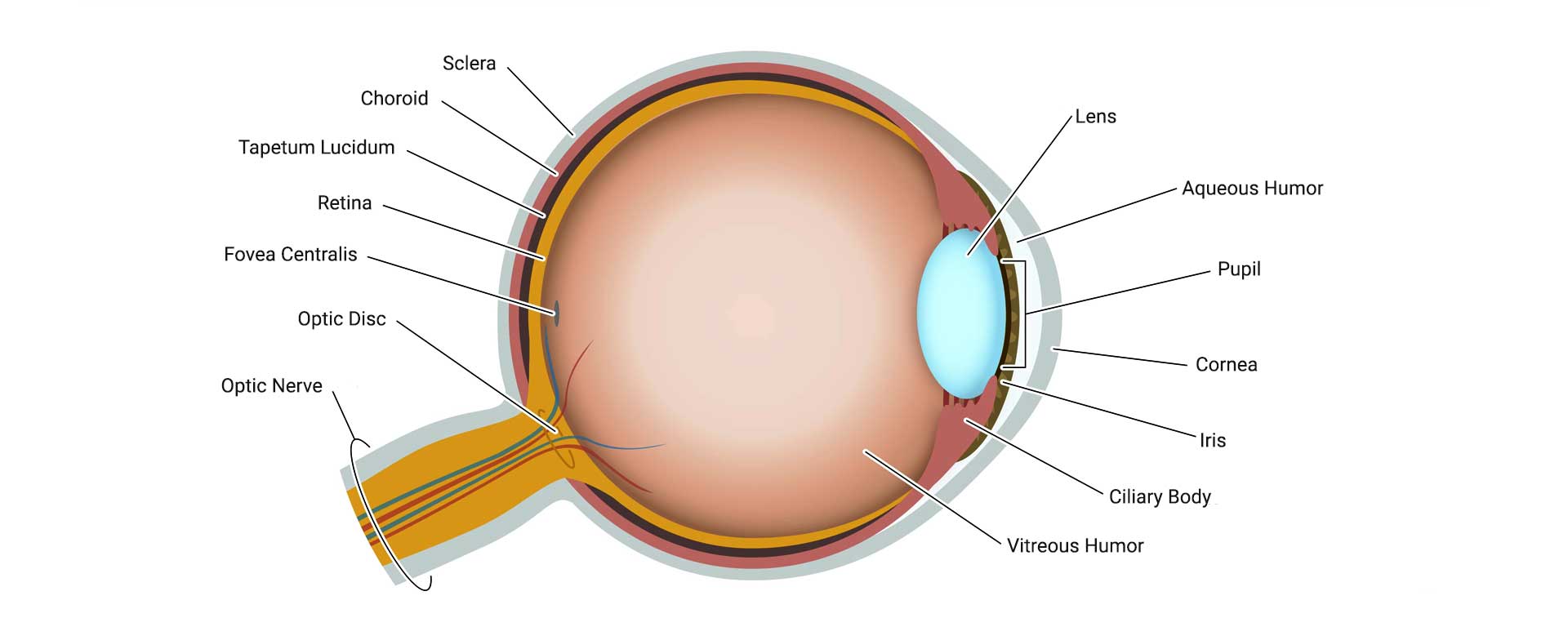 Collie Eye Anomaly
What is Collie eye anomaly?
Collie Eye Anomaly is an inherited condition affecting both eyes of many different Collie type breeds of dogs. Interesting to note, that not only Collie breeds are affected but also some other breeds. Affected breeds include Rough and Smooth Collies, the Shetland Sheepdog, the Australian Shepherd, the Border Collie, the Lancashire Heeler, and the Nova Scotia Duck Tolling Retriever.
From Kitten to Cat
Kitten Behaviour
Tiny fuzz-balls of cuteness - the perfect description for every kitten. We cannot resist them creeping into our hearts.
You have brought your new kitten home and realise it is dependent on you for its every need. For the kitten, the world is huge, brand new and can be a bit scary. Every sight, sound, smell, person and animal are a new experience. These first experiences are likely to influence their future behaviour.
My cat has suddenly gone lame in her hindquarters and seems to be in a lot of pain
Feline Aortic Thromboembolism
What is Feline Aortic Thromboembolism?
Feline Aortic Thromboembolism (ATE) is a condition in cats where a big blood clot settles and blocks the main artery (the aorta) running from the heart to the cat's hind legs. The clot typically settles near the pelvis, where the aorta divides into the two main arteries that extend into the legs.
My cat's eyes are swollen and teary
Conjunctivitis in Cats
What is conjunctivitis?
Conjunctivitis is the inflammation of the conjunctiva. The conjunctiva is the thin semi-transparent mucous membrane lining the inside of the eyelids, covering the third eyelid. This membrane attaches to the globe of the eye at the level of the sclera (the white part of the eye). The back end of the word conjunctivitis (– itis) refers to inflammation which is a defense mechanism of the body and means swelling, redness, increased heat to the local area because of an increase in blood flow to the affected area, and pain or discomfort. Conjunctivitis is a very common condition affecting our household cats.
There is something wrong with my dog's eyes
Keratoconjunctivitis Sicca - Dry eye
What is "dry eye?"
Keratocunjunctivitis Sicca (KCS) or dry eye as it is commonly known, is a condition found in humans and animals where the eyes do not produce enough tears or moisture for the eyeballs to stay moist and shiny.
Which animals are prone to dry eye?
The condition is common in dogs and rare in cats. Cats who do suffer from the condition tend to show fewer symptoms of eye problems than dogs. Certain dog breeds are predisposed which include Cocker Spaniels, Bulldogs, West Highland White Terriers, Lhasa Apsos and Shih Tzus.
My dog has what looks like a red cherry stuck in the corner of its eye
Cherry eyes in pets
Introduction to cherry eye
A cherry eye is a non-life-threatening condition that occurs in dogs, and less often in some cat breeds. It is an extremely descriptive term, as one can see an oval, bright red swelling in the inside corner of an affected dog's or cat's eye, resembling a cherry. As a pet owner one can easily become quite alarmed by seeing this, but fortunately, it only causes slight irritation to the dog initially and you will have time to attend to it and take your animal to the vet before the condition gets out of hand. It is never a good idea to just leave it be. The condition tends to occur more commonly in younger dogs and cats, usually between the ages of 2 and 6 years.
My dog's nose seems to be all clogged up and hard and he is not well at all
Distemper in dogs
Following recent outbreaks of Distemper (Hondesiekte in Afrikaans) in Kwa Zulu Natal and Gauteng, it is important to have an understanding of this disease which is fatal in half of all cases of dogs that contract the disease.
My pet injured its eye!
Trauma to the eye- eyelids and cornea
Just like in people, the eye of a dog or cat is a delicate structure that can be affected by a huge number of different conditions. This article will cover trauma to the eyelids, third eyelid and cornea.
Anatomy of dogs and cats eyes
The eye of the dog and cat is very similar in structure to the human eye but there are one or two differences. Both a cat and dog's eye is globoid (round) in shape. The part of the eye exposed to the outside is protected by the eyelids and eyelashes, just as in people. The cornea is the see-through part of the eye. It is a thin layer, allowing light to pass through the pupil and lens to the back of the eye. The white of the eye is known as the sclera. The conjunctiva is the pink part of the eye that can be seen between the eyelids and the eyeball. Dogs and cats both have an extra membrane, known as the third eyelid or nictitating membrane. This membrane can be seen in the inner angle of the eye and sometimes it can cover most of the eye, particularly following trauma.
The vet could not cure my pet!
Owner Compliance and the Role you as an Owner Play
First things first, there are always 3 parties to any veterinary consultation: The vet, the pet and the one often overlooked, the owner. For any veterinary treatment to be successful at least two of the three parties, namely the vet and the owner, are pivotal to the success of any intervention. As an owner, you are the eyes and ears of the vet in the home environment and most importantly no one knows your pet the way you do. The truth is we the vet cannot do their job without you. I am sure many have heard the saying that vets have it harder because their patients don't talk, they can't tell the vet what is wrong, or where it hurts. It is for this reason that a vet will require every bit of additional information they can get from you, the owner. Animals are as biologically complicated as people, in fact, most medical ailments affecting people can affect animals.
My dog is really getting old
Geriatric dogs - The senior years
Taking your elderly dog to the vet for an annual check-up can sometimes feel like a waste of time and a big inconvenience to the pet involved. The stress involved and the difficulty of transporting a big elderly dog, which is not so mobile anymore, may make you wonder if it is really necessary. The answer is a very big YES!
At what age exactly are dogs considered geriatric? You may find different views on the internet and as with humans, it does depend to a large degree on the individual animal. Some humans are sprightly and active at age 75 and others are tired and sickly at age 60. The same applies to dogs but there is a general consensus that small breed dogs generally have a longer life span than medium and large breed dogs. Giant Breeds are considered geriatric at the early age of 6 to 7 years, whereas breeds are only regarded as geriatric when approaching ten to twelve years of age. The aim of an annual check-up for an adult dog is not just to update the vaccinations, but to give the veterinarian an opportunity to evaluate the dog's general health and pick up any problems that might have gone unnoticed by the owner. The broad generalisation is that for each one year a human ages, a dog will age the equivalent of 7 years. If you look at it in this light, it will make sense that in older dogs, regular check-ups, as in humans, are vital. The vet will also ask the owner a series of questions to establish how the animal is doing at home. Things to start looking out for when an animal gets older is a loss of appetite, losing weight, struggling to get up and move around, as usual, drinking and urinating more than usual, and general signs like vomiting and diarrhoea.
My cat is really getting old
Geriatric Cats - The senior years
Due to improvements in nutrition, veterinary and home care, cats are living a lot longer than they did twenty to thirty years ago. In the past when a cat reached the age of 13 years old, we believed them to be really old. This is definitely no longer the case. We see several cats that are now reaching ages in excess of twenty years. Cats also tend to age a lot more gracefully than dogs and so it is not always easy to tell when they are starting to struggle or are showing signs of illness.
My pet is vomiting
Is vomiting a sign of an upset tummy?
Vomiting is one of the most common symptoms of disease seen in pets. It can be quite alarming to see your pet vomit up all his or her food or alternatively continuously wretch and only bring slime or bile. So should you rush your dog or cat to the vet immediately when you see them vomit, or is it safe to wait and see? Because there are so many causes of vomiting, we recommend that if you are ever in doubt, it is always better to visit the vet and have it seen to, even if it is just to put your mind at ease and prevent it from progressing to something more serious.
My older German Shepherd Dog seems to be getting weak in its hindquarters
Degenerative Myelopathy
This article outlines a genetic disorder that mainly German Shepherd dogs are prone to. There are other breeds affected by this condition too like Chesapeake Bay Retrievers, Corgis, Boxers, Wirehaired Fox Terriers and Rhodesian Ridgebacks, however, the disease is mostly seen in German Shepherds.
If one breaks down the name of the disease it describes what happens with the disease. Degeneration refers to a breaking down or deterioration of something. That "something" in this case is myelin which is the insulating sheath around neurons in the spinal cord. Neurons are the "electrical wires" of the nervous system and one can compare myelin to the insulating plastic around the wires, almost like one would find with an electrical cord. Whenever a term is followed by "pathy" it refers to a disease or disorder in a certain part of the body. In this case the spinal cord.
My dog is ravenously hungry all the time and eats like a beast but is as thin as a rake.
Exocrine pancreatic insufficiency in dogs
Why is the pancreas important?
The pancreas is a small, light pink, glandular organ that is situated between the stomach and the duodenum (part of the small intestines). It has many important functions, all of which can be classified into two main categories namely endocrine and exocrine.
The endocrine function of the pancreas refers to its hormone-producing cells. Hormones are small chemical messengers that are released into the bloodstream. Two important hormones produced by the pancreas are glucose and glucagon, both of which are important in maintaining blood sugar levels.
Help! My pet has just drank some Anti-Freeze
Ethylene Glycol Toxicity
Winter has arrived and many people, as a precautionary measure, are putting antifreeze into their cars' radiators, to prevent the water from freezing.
Ethylene glycol is the main ingredient found in antifreeze. Antifreeze is not as commonly used in South Africa as on other very cold parts of the world, as we do not get the very cold temperatures found in some parts of the Northern hemisphere. It is however found in many other products, which are found in South Africa. It is found in lower, less harmful concentrations in hydraulic brake fluid, solvents, motor oils, paints, film-processing solutions, wood stains, inks and printer cartridges.
When should I be worried about my cat's coughing?
Coughing in cats
A cough can be described as a sudden, forceful expiration of air through the glottis (part of the throat). It is usually accompanied by an audible sound (something that can be heard), which is often preceded by an exaggerated inspiratory effort (a big breath in). Cats, just like humans, may cough occasionally to clear their throat or because they have an irritation but coughing can be a clinical sign for a varying number of serious conditions in cats.
My dog seems sore in its front leg
Elbow dysplasia in dogs
What is elbow dysplasia?
Elbow dysplasia is the collective term that describes a number of conditions that affect the growth and development of a dog's elbow. It is most commonly seen in large and giant breed dogs. Labradors, Golden Retrievers, German Shepherds and Rottweilers are the most common breeds but it can occur in any breed. There are a number of different theories as to why elbow dysplasia occurs but it is often a combination of factors, which leads to the abnormal development of the joint. Defects in cartilage growth, trauma to the joint, genetics, exercise and diet may all play a role in the development and progression of elbow dysplasia.
My puppy is trying to chew the cord of my laptop charger
Electrical Injury in our pets
Although this may sound like a very unusual topic to discuss it is something that happens far more frequently than we would like. The most common reason for our pets to get electrocuted is chewing on electrical cords. In general the age groups affected in both cats and dogs are approximately 2 months to 2 years of age - the young and the curious. During this phase of their development they tend to be curious about the world. Teething and growing creates the perfect atmosphere for chewing anything in their path. The incidence of electrocution can often coincide with the festive season with all the decorative lighting being put up but for most of us who work with a laptop from time to time and has to plug it in to charge, this could pose a risk for our pets.
My pet is battling to pass a stool
Bowel movements - a serious situation
Ever notice your dog or cat in a hunched-up position either in the garden or in their sandbox and just not being able to "come right" with passing whatever it is they want to pass? In cats and female dogs, the posture of the animal when passing stool and passing urine is the same. It is therefore important to try and establish whether they are battling to pass a stool or alternatively if they are struggling to urinate. Both conditions may require veterinary attention and if the animal repeatedly hunches and strains with no apparent relief, it may be a sign that they need to see the vet.
Celebrating good times with your pets
What not to feed your pets during the festive season
South Africans love to celebrate with food and drink as do many other cultures. Being part of the family, we like to include our pets in our celebrations and with the best of intentions may harm them if we feed them the same things we enjoy eating and drinking when we celebrate. This article highlight some of the food and drinks we as humans enjoy, which may be harmful and even deadly for our pets.
I found a lump on my animal's skin. Is it cancer?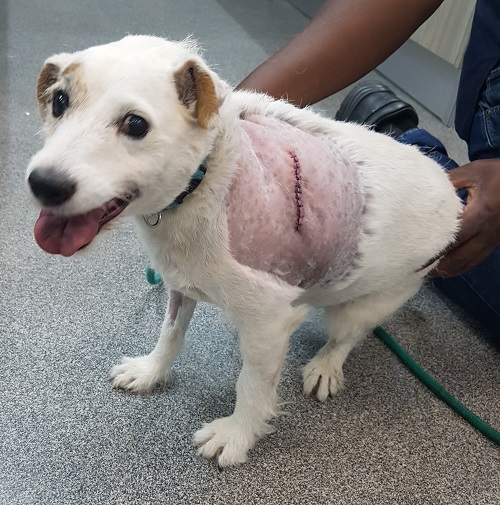 Lumps and Bumps in your Pet
Finding a lump or a bump in your pet which you have never noticed before, can cause serious worry for pet owners. This article will highlight what to watch out for when to take your pet to the vet and the process veterinarians follow when approaching any lump found on a pet.
Firstly, it is always important to remember that you can never tell how serious a mass on your pet is by simply feeling it and judging by its size. Dynamite can often come in small packages and some of the most aggressive skin cancers may present as a simple small raised area on the skin. Generally, lumps on a cat tend to be more dangerous and they are not something to be ignored. All growths have to start small but may grow very rapidly. Lumps come in all shapes and sizes and for that reason, it is always best to get any lump on the skin or underneath the skin checked by the veterinarian as soon as you discover it. This will provide peace of mind to you as an owner if it is simply a dermal cyst or a small wart-like growth, both of which will not cause any major health issues for your pet. Alternatively, if it is something more aggressive and dangerous, it is always better to start treatment as soon as possible. If it is determined to be a bad type of growth (malignant), the sooner it is diagnosed the better the prognosis for both removing it surgically or starting any other form of treatment.
Can I, or my dogs or cats contract bird flu from my pet birds?
Avian Influenza South Africa 2017
The information provided here is not an official statement but is meant to provide some general information on bird flu because of the break out of bird flu in September 2017 in South Africa.
Bird flu or Avian Influenza (AI) is a family of influenza viruses that mainly affect birds. They are named according to two proteins on the surface of the virus (Haemagglutinin and Neuraminidase). The only ones of commercial concern are the H1, H5 and H7 types. There are dangerous (HP or highly pathogenic) and LP (low pathogen) strains. So when you see someone talking about HPAI H5N8 that means the dangerous type of H5N8 avian influenza.
I love the mean look a dog with cropped ears have
Ear cropping in dogs - Why vets do not do it anymore
Ear cropping in dogs was a procedure done by vets in the previous century whenever dog owners requested it. Cropping is the removal of part, or all, of the outer ear, or the pinnae (externally visible flap) of the ear of an animal. Cropping the ears also involved taping the ears up after the surgery, to make the ears pointy.
Why was ear cropping done in the past?
Ear cropping was historically done on working dogs to reduce the risk of medical conditions like infections or haematoma. An othaematoma is when a small blood vessel in the ear bursts when dogs shake their heads (with ears flapping from side to side against the top and bottom of the dog's head) and which causes the ear to "balloon" out with a blood-filled pocket in the ear. Although these initial reasons for doing cropping were sound, it turned into a cosmetic procedure over time and became more about "the looks" of the animal, rather than anything else. The surgical procedure of ear cropping was no longer done for functional reasons and was purely done for aesthetic reasons – "to give a dog that mean look".
My cat is damaging my furniture by scratching it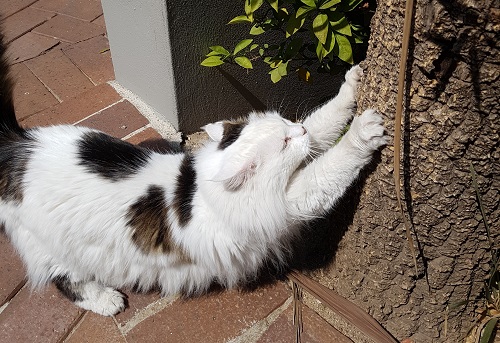 Should I declaw my cat?
Many people think that declawing a cat means that you cut the nails really, really short so that they do not have the capacity to grow again. Nothing could be further from the truth. When a cat is declawed, the greater part of the last digit of its toe is amputated. Cats' nails are attached to the last digit on their feet and one cannot effectively remove the nail, without also removing the greater part of the digit itself. There are muscles and tendons attaching to the bone of the last digit and some of the bone should be left intact for the foot to function normally after the procedure. If one was to do a similar procedure in a human, it will be like removing the tip of your finger just in front of the first knuckle.
My Boerboel with its long tail really looks strange. I much prefer a Boerboel with a short tail.
Tail Docking in dogs - Why we as vets do not routinely do it anymore
To start off with let's define what we are talking about when we are talking about tail docking in dogs.
Tail docking from a veterinary perspective refers to a surgical procedure done to puppies between the ages of 3 to 5 days old, where a portion or partial length of the tail is amputated or cut off with a scalpel or surgical scissors, bleeding is stopped by cauterisation or tying off of bleeding blood vessels with absorbable suture material, and placing a suture or sutures in the skin to close off the wound.
What is the brownish yellow discolouration on my pet's teeth?
Discoloured teeth in dogs and cats
Just like humans, dogs and cats have two different sets of teeth. The first set, known as the deciduous teeth or "baby teeth", erupt between three to six weeks of age. The permanent or "adult" teeth start erupting around three months of age and are all present around six months of age.

The teeth are also very similar in structure to human teeth, with the crown that sits above the gum line and the root which is located below the gum line. All teeth are made up of an outer protective coating of enamel. Enamel is a very hard structure that protects the more sensitive dentin. The dentin sits over the even more sensitive pulp cavity which contains nerves and bloods vessels, which nourish the tooth.
My dog makes a strange snorting sound with funny gagging movements almost like something is stuck in his/her throat.
Reverse Sneezing in dogs
What is reverse sneeze?
Reverse sneezing is repetitive, forceful inspiratory (breathing in) efforts generally caused by irritation of the lining of the naso-pharynx or area at the back of the mouth and nose where these two openings join into one. Unlike a normal sneeze where air is forcefully pushed out the nose to clear the irritation, a reverse sneeze involves air being pulled forcefully and rapidly into the nose. This is commonly seen in small and toy breeds breeds with long thin nasal passages like Miniature Pinchers, Toy Poms, Chihuahuas, Malteses, Dachshunds, Poodles, Yorkshire Terriers and other Terriers, etc., and brachycephalic (short nose) breeds like Pugs, Boston Terriers, Shih Tsus, Pekingeses, etc.
I found a loose stool with blood and what looks like jelly on the kitchen floor this morning - what do I do?
Acute and Chronic colitis in dogs and cats
What is Acute Colitis?
Acute colitis is a common condition in pets and is characterised by a sudden onset colonic inflammation with a diarrhoea that may contain mucous and/or fresh blood.
Clinical signs
The most common symptoms are straining when defecating, mucous (the jelly you noticed) and/or blood in the stool, and increased frequency of defecation. Systemic signs of illness are generally absent and most animals are still alert, active and have normal appetites in spite of having colitis.
Is Tick Fever and Tick Bite Fever the same disease in dogs?
Erlichiosis (Tick bite fever) in dogs
It is not. Tick fever or Babesios in dogs, is not the same disease as Tick bite fever or Erlichioses. Both diseases are transmitted to dogs by ticks, but they are caused by two totally different organisms or parasites and the clinical signs, progress and treatment are very different.
To further confuse the matter, Tick Bite Fever in humans is not the same as Tick Bite Fever in dogs and once again, although transmitted by ticks, is caused by a complete difference parasite. Tick Bite Fever in dogs is not transmissible to humans or vice versa.
What do I feed my dog, how much and when?
Nutrition in dogs: guidelines to a well-fed pooch
Feeding your dog an appropriate well balanced diet for its life stage is vital to good health and wellbeing. Nutrient requirements differ depending on the breed and age of the dog and there are a few important factors to take into consideration.
Many people see dogs and cats as a similar kind of animal and therefore it is useful to understand the difference between the two species to better understand how to feed your dog properly.
My dog's stomach is suddenly very bloated and he is very uncomfortable
The dreaded Gastric Dilatation and Volvulus (GDV) Syndrome - Twisted Stomach
Gastric Dilatation and Volvulus (GDV) is a rapidly progressive life-threatening condition in dogs characterised by bloating and twisting of the stomach. Patients admitted with suspected GDV are treated as an emergency as the condition is life threatening. Treatment may require medical and surgical intervention. It is commonly associated with large or giant breed, deep-chested animals between 2 and 10 years of age. Some breeds affected are German Shepherds, Rhodesian Ridgebacks, Great Danes, Dobermans, Irish Setters and Basset hounds but any breed and age can be affected.
My pet was hit by a car on its hindquarters
Pelvic Fractures
This article gives a simple overview of what to expect when a pet has a pelvic fracture, what are the most common causes and associated injuries, and what treatment options are available.
Pelvic Fractures are a fairly common occurrence and it is something veterinarians in private practice are faced with almost on a weekly basis. The pelvis is an essential part of a pet's skeletal structure and forms the framework around which their hind limbs move and function. Not only is it essential to our pets ability to walk but there are some very sensitive and important structures that lie in and around the pelvis which can easily be damaged in the event of a pelvic fracture. This will be explained in more detail later on in the article.
Can spaying your dog save her life?
Pyometra in dogs - the reason for spaying
Pyometra is a condition of unsterilised females, usually older than 6 years of age. "Pyo" refers to pus, and "metra" to the uterus. Literally translated, it would mean "bad of pus". It is a very serious condition and if left untreated for too long, can have deadly consequences. It can be treated very effectively if caught early and taking your animal to the vet when signs first appear can save its life.
Do animals also get cataracts?
Cataracts in dogs
Have you ever wondered if animals are also affected by cataracts just like humans? The answer is, YES, as with most human diseases and conditions, animals are also affected by this condition. In this article we will look at how dogs are affected by cataracts, what causes it, the prevention and treatment, and the consequences if left untreated.
What is a cataract?
The lens is the structure within the eye that enables us and animals to see far and near and to focus. A cataract is an opacity within the lens or lens capsule which reduces the passage of light through the lens that can affect vision and will eventually cause blindness. Cataracts prevent light from reaching the nerve centre of the eye, known as the retina. A cataract may start as a small cloudiness within the lens that gradually enlarges as it matures. It is very difficult to predict the progression of the cataract but it most often results in blindness.
Can my kitten make me sick?
Cat Scratch Disease
There are many diseases that can be transmitted from animals to humans. These diseases are called zoonotic diseases. Although the list below is by no means comprehensive, some of the more common diseases that we can get from our household pets are:
Ringworm, which is a fungal infection of the skin
Hook worm, roundworm and tapeworm infection
Toxoplasmosis
Cat scratch disease
Scabies, a mite that causes severe itchiness and skin lesions
In this article we are going to look at cat scratch disease (CSD), the cause of it, the symptoms and how to prevent it. Cat scratch disease, or cat scratch fever, is caused by an organism called Bartonella henselae or formerly called Rochalimaea henselae. It is a small anaerobic (organism which does not need oxygen to survive), gram-negative, non-motile bacterium. Domestic cats are the natural hosts for this organism and the animal from which humans can contract the disease (also known as the vector). If a cat harbors this bacterium, the cat very rarely shows any signs of the disease which is described as asymptomatic. It is therefore impossible to tell if a cat is infected with this organism without further testing. Fleas are the organism responsible for transmission of the disease between cats and therefore flea control is one of the best ways to prevent this disease. The infection rate is much higher in a population of cats that are flea ridden and can be as high as 61%. As a cat scratches and bites at fleas, the organism gets stuck between their teeth and under their nails. Kittens younger than 12 months are 15 times more likely to carry the infection than adult cats.
My dog did not go out of the yard and is now limping lame on one of his hind legs
Anterior cruciate ligament rupture in dogs
Often time vets are confronted with this situation in veterinary clinics. As far as the owner knows their dog would not have been subject to any trauma, yet they can hardly take weight on one of their back legs. There are many possible causes but by far one of the most common reasons for this situation occurring is a tear of the major small ligament inside the knee.
My dog is scooting on its backside and I think it has worms
Anal sac disease in dogs
Many veterinarians are presented by concerned pet owners about the animal's scooting or dragging their backsides along the ground by holding the back legs up in the air and pulling themselves forward by the front legs whilst remaining in a seated position. The owner often thinks that the animal may have worms and is trying to get the worms out their backside by dragging it along the ground. Although this is quite possible to be the case, especially in the case of tapeworm infestation, it is unlikely to be the cause. The most common cause for this behaviour is uncomfortable anal glands.
My pet is not responding to me
Deafness in pets
Pets are known to have an acute sense of hearing. What would cause them to lose this ability? How will they cope with deafness? To answer these questions we first have to look at the normal anatomy of the ear.
Dog and cats ears, much like humans, can be divided into three areas: the outer ear, middle ear and inner ear.
The outer ear consists of the external earflap called the pinna, and the ear canal which is a narrow tube through which sound vibrations enter the ear.
The middle ear contains the eardrum, a membrane that vibrates correspondingly to the incoming sound waves, and the small little bones on the inside of the eardrum called the auditory ossicles. These small bones transmit the eardrum vibrations to the inner ear.
The inner ear, located deeper within the skull, contains the cochlea, a snail-shaped structure containing nerve endings that receive the vibrations and pass nervous system signals along to the brain, thereby enabling hearing.
Is your pet safe?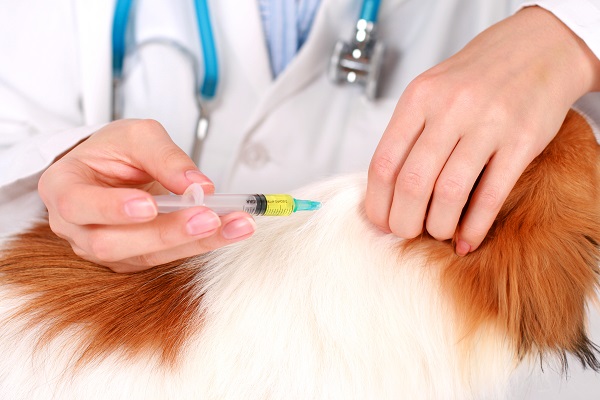 Fatal Diseases that can easily be prevented
Fatal Diseases that can easily be prevented
There are some fairly common fatal diseases in animals which can and should be prevented wherever possible. This article looks at how these diseases present, what they lead to and most importantly how they could be prevented. Today we have more information about our animals and the diseases they may suffer from than ever before. With this knowledge comes the means of preventing these conditions that years ago would have meant certain death to our beloved pets. The most important means of disease prevention readily available to us is vaccination. A simple annual health check and vaccinations can help ensure your pet lives a long and healthy life. Other important means of prevention includes regular deworming as well as tick and flea treatment.
A sugar substitute fit for humans, which can be lethal to your dog
Xylitol Toxicity
What is xylitol and where can it be found?
Xylitol is a natural sugar alcohol that is commonly used as a sugar substitute in human foods. It is found in and extracted from corn fiber, birch trees, hardwood trees as well as other fruits and vegetables.
Xylitol is a sugar substitute most commonly found in chewing gum, candies, breath mints, baked goods, cough syrup, children's edible vitamins, mouth wash and tooth paste (all of the sugar free variety). There are many more human products on the market that may contain xylitol. It may also be purchased in a granulated form to be used for baking, or as a sweetener over cereals and in beverages. As society's pressure to look lean and slim, and the need to diet increases, this sugar free alternative has grown drastically in popularity over the last decade.
False Pregnancy
Pregnancy
False pregnancy, also known as Phantom pregnancy or Pseudo-pregnancy, is a condition of both dogs and cats, whereby the unsterilised female animal (regardless of whether she was mated or not) shows some or all of the typical signs of pregnancy but is not really pregnant. In other words, she shows mammary gland development (with or without milk production) but does not produce any offspring.
Lameness in old dogs
Lameness
As a dog gets older, he or she may start to struggle to get up or get a little slower on walks. You may notice that they are worse in winter than in summer or after resting for a prolonged period. Sometimes they may not to be able to place any weight on a leg at all and this may happen quite suddenly. Lameness in older dogs can be broadly placed in three categories:
Lameness in young dogs
Lameness
Getting home to find your puppy or young dog not placing weight on a leg is always a concern. There are many different reasons why a young dog may limp, some more serious than others. Causes of lameness can be broadly placed into three different categories:
Lameness due to trauma
Developmental and congenital (inherited) lameness
Infectious causes of lameness and cancer
Because the causes of lameness can be so wide and varied, it is important to have your puppy looked at by the veterinarian sooner rather than later when you notice any signs of limping or lameness.
Proptosis
Displacement of the eyeball
Proptosis is defined, as the forward displacement of the globe (eyeball) out of the socket, with the eyelids trapped behind the globe.
Proptosis is an ophthalmic emergency. Any suspected trauma to your pet's eye warrants a visit to your veterinarian immediately.
Let us first have a look at the normal eye anatomy:
Predisposing factors: Breed predisposition
Proptosis is a condition more commonly seen in Brachycephalic breeds (dogs with prominent bulging eyes, short noses and shallow eye sockets). Pekingese, Pug, Boston terrier and Shihtzu are over represented.
Breeding with your dog
Breeding
Understanding the female's cycle
A female dog will only come into heat for the first time between the age of seven months and anytime up to a year of age. Occasionally this period may be longer. The age at which they first come into heat is governed by a combination of factors but usually smaller breeds start at a slightly younger age than the larger breeds. This is by no means a set rule as there is a great variation. Once she has started to cycle, a female dog will then come into heat every 4 to 7 months but your giant breed dogs may only cycle once every 12 to 18 months. It can take up to 2 years for them to develop regular cycles. Once started the heat cycle can last 2 to 3 weeks. There are two main parts to a female's cycles namely pro-oestrous and oestrous. Pro-oestrous is the period during which her vulva will be very swollen, she may have a bloody discharge (volume varies greatly) and she will not allow any males to mount her. This is essentially the non-receptive part of her cycle. The second part is known as oestrous. At this point her vulva is still swollen, any bleeding has stopped and most importantly this is the period during which she is receptive to males and will allow mating. It is essential to understand this to avoid unwanted pregnancy. It is only when the bleeding stops that she is in full heat and at her most fertile.
Can I give my dog a bone?
Feeding your dog bones - the good, the bad and the ugly
Although most of us grew up with the assumption that bones are good for our pets this is in fact a fallacy, one that more pet owners should be made aware of. Let's look at some effects and risks involved when feeding bones to pets.
The Good:
The unfortunate truth is that the only good thing about feeding your dog bones is that they like it and it keeps them busy, especially if they have a tendency to chew. Sadly just as we all enjoy our McDonalds, KFC and pizza we know these foods are not good for our health and the same applies to bones for your dog. They carry no nutritional value and are indigestible. Perhaps the only part of the bone a dog may actually eat and digest would be bone marrow.
My cat has pimples!
Feline Acne
Feline acne is a common skin condition in cats. Cats of any age can be affected, and there is no breed or sex predisposition.
Cats are often presented to the veterinarian with the complaint of 'dirt on the cat's chin, that the owner cannot remove after attempts to clean it' or 'bumps on the cats chin'.
How does feline acne develop?
Hair follicles on the chin become blocked with secretions from small fat glands called sebaceous glands in the skin. This gives rise to multiple blackheads otherwise known as comedones on the chin, giving the chin the so-called 'dirty appearance'. These comedones may also be associated with small red blisters or pimples and crusts on the surface of the chin.
What is trichobezoar?
Hairballs in cats
The elusive and very unpleasant hairball is something that every cat owner will experience at some point. Cats in general are very clean and well-kept animals and grooming is an essential routine for them to ensure their cleanliness. A healthy cat is one that grooms. Hairballs are simply a by-product of your cat's hygiene.
A trichobezoar, commonly known as a hairball, is a clump of indigestible hair, moistened by bile and digestive fluid that may or may not contain bits of food or other foreign material. Hairballs are not usually round in shape but rather drawn-out and the shape of a sausage. This is due to their passage through the oesophagus, the tube connecting the stomach to the mouth, which is long and cylindrical. Hairballs can occasionally resemble faeces but on closer examination one will notice it is made up of hair. It also does not smell like faeces although it does not have a particularly pleasant odour.
What causes back pain in dogs?
Disc disease in dogs
Introduction
Intervertebral disc disease is a term that describes the condition in which the softer cartilage like material in between the bones of the spine, called an intervertebral disc, pushes onto the spinal cord, causing clinical signs that varies from slight back pain and discomfort to complete paralysis of limbs. Even with the slightest clinical signs, your pet should be examined by the vet to establish how serious the condition is and be treated accordingly. The earlier this is attended to, the better the overall outcome.
Is your male pet missing testicles?
Cryptorchidism
Cryptorchidism is a condition where the male dog or cat's testicles have not descended into the scrotum. Descended in this context means that the testicles has come from inside the dog or cat's belly and are visibly sitting in the ball sack (scrotum).
In the embryo, when the kitten or puppy is being formed in the mother's womb, the testicles develop inside the puppy or kitten's abdomen (stomach cavity) behind the kidneys. As the embryo matures, the testicles then move from the inside to the outside of the animal's abdomen.
Old man's gland - Do dogs have the same problems as humans?
Prostate disease in the dog
The prostate is the only accessory sex gland in the male dog. It is a butterfly shaped structure that surrounds the urethra (the tube that connects the bladder to the outside). Due to the location of the prostate, it can affect the urinary system, the colon and the hind legs, as well as having some systemic effects. Prostatic fluid is produced continuously in the dog. Prostatic fluid makes up most of the volume of seminal fluid (the fluid that carries semen). The prostate has many nerves and blood vessels running to it but is surrounded by a thick capsule, which sometimes makes it difficult for some drugs to get deep down into the prostate. Normal prostatic function is dependent on circulating testosterone. The prostate can develop a few conditions that can result in debilitating disease in the dog.
Can I treat my pet's wound at home?
Wound Care at Home
When managing wounds at home it is important to always contact your veterinarian for assistance. Many home and even human wound remedies are not suitable for use in pets. Determining factors in deciding whether a wound can be treated at home or needs veterinary care includes the severity and age of the wound, the cause and location of the wound, and most importantly if the pet is leaving the wound alone. In most instances the safest and most effective way to deal with it is to take the injured pet to the veterinarian for initial treatment and advice on continued care at home. In this article we will go over some of the major components of wound treatment and care as well as giving you guidelines on when to visit the vet.
Pregnant women have to watch out for this bug carried by cats
Toxoplasmosis
Introduction
Toxoplasma gondii is a tiny organism, slightly bigger than a bacterium, called a protozoa. This parasite has a worldwide distribution, except in the absence of cats. Cats are the only animals capable of completing the life cycle of this organism. Other warm blooded animals, including cats can serve as intermediate hosts for the parasite. The organism has a very high prevalence, but rarely causes clinical disease in dogs and cats. This is an important parasite to be aware of due to the fact that it is an important zoonosis, meaning it is an animal disease that can be transmitted to humans.
Why is my dog limping with his hind leg?
Patellar Luxation
Patellar luxation is a condition where the knee cap does not run in its groove but slips off to the side. Luxation is a learned word for "slipping". It is a condition which is regularly encountered in dogs and more commonly in toy breeds. The condition can be developmental or traumatic in origin.
To understand the condition better, it helps to know what the anatomy of the knee looks like. The patella is commonly known as the knee cap and sits at the bottom of the big muscle group of the upper front part of the hind leg called the quadriceps. The patella makes up the front part of the knee and glides in the middle groove of the big bone of the upper part of the hind leg, the femur. This groove is known as the trochlear groove. The groove looks like a valley with two mountain ridges on either side. The ridges on either side of the groove are known as the trochlear ridges. The ridge on the inner part of the leg is known as the medial trochlear ridge and the one on the outer part is known as the lateral trochlear ridge. The knee cap or patella fits nicely in between these two ridges and glides up and down the groove as the knee bends. The patella is stabilised by the big muscle group to the top of it, the strong ligament to the bottom of it and the ligaments and connective tissue to the sides of it. The patella ligament which sits below the patella, implants onto the front of the top part of the bone underneath the femur, the tibia, also known as the shin bone.
My young cat seems ill
Feline Infectious Peritonitis
Feline infectious peritonitis (FIP) is a serious and most often fatal disease affecting cats. It is most commonly seen in young cats between the ages of six months and two years. It has been found to affect male cats more commonly than females and purebred cats particularly the Asian breeds are more susceptible. It is characterised by fluid build-up in body cavities such as the chest and abdomen and neurological signs. It can affect all major organs and inevitably results in death. It may be referred to as Feline coronavirus polyserositis (wet or effusive form) or granulomatous feline infectious peritonitis (dry or non effusive form).
Can humans get worms from dogs and cats?
Zoonotic helminths – Worms which humans can get from pets
Have you ever wondered if humans can get worms from dogs and cats? You don't have to wonder any longer, the answer is 'yes'. In this overview we look at which worms can be transmitted between pets and humans, what diseases they cause and how to prevent this potential health risk.
Firstly when a disease or parasite can be transmitted from animals to humans it is called a zoonosis. It is often a concern when a pet is diagnosed with intestinal worms whether the family is at risk of contracting the parasite. The concern is valid but the good news is that it is easily managed with education, proper precautions and a well organised deworming program for your pets.
My pet has red urine - what does it mean?
Bladder Stones
Bladder stones is a condition that occurs in dogs and cats of various ages, sex and breeds. Bladder stones are also called urinary calculi or uroliths. These are mineral like formations that form anywhere in the urinary tract, including kidneys, ureters, bladder and urethra. The most frequent location is the bladder.

Clinical signs of bladder stones to look out for
Dogs with bladder stones often present like dogs with a bladder infection. Both of these conditions will show frequent urination as well as discomfort, particularly when urinating. The animal will squat to urinate frequently, often only passing small amounts of urine while straining. The owner might also see a red discoloration in the urine and in some cases the urine can be a dark red colour. Because the stones rub against the bladder wall it causes irritation and inflammation of the bladder wall that leads to bleeding. Some dogs will show discomfort and pain when walking, with the hindquarters tucked in, while cats can become very vocal when in pain. In some cases the stones may still be very small and can leave the bladder and enter the urethra. The urethra is the tube that directs urine from the bladder to the outside. If the stone is not small enough to pass, it will become lodged in the urethra, blocking urine flow completely. The pressure will build up in the bladder and the kidneys, and if this is not corrected quickly, the bladder can rupture. This will cause severe illness and if quick intervention is not done it may lead to death.
Do cats bite for no reason?
Aggression in cats
Cats are often seen as less aggressive animals than dogs but they have five sharp ends that can be used at a moments notice. Cats may also be seen as more instinctive than dogs, mimicking some of the behaviour seen in their wild counterparts. This is obviously on a much smaller level. Aggression can be directed towards people, cats, other species such as dogs, rabbits and birds or inanimate objects, which would include toys or furniture. The most common causes of aggression in cats can be described under the following categories:
Does your puppy have good manners?
House training your new puppy
It is important to plan ahead for house training. Always ensure everyone in the house is involved and that everyone knows what the plan is. It is important to have consistency when training puppies so as not to confuse them. Routine is essential for achieving the desired goal of having a puppy with "good manners". Puppies, as with human babies, benefit greatly from a fixed routine, they feel safer and it helps the learning process.
Do dogs bite for no reason?
Aggression in dogs
Aggression is one of the most common behavioural problems in dogs. Aggression is often easy to diagnose but difficult to manage, because it is often multifactorial. There are several different categories of aggression. Let's look at the different types of aggression in dogs.
Aggression in dogs
Aggression can be classified into several different categories. Fighting amongst dogs in the same household is probably the most common aggression problem, followed by aggression to unfamiliar people. It is not always possible to prevent aggression but it can usually be controlled with effective management. In some cases, re-homing an aggressive animal may be a suitable solution and in a few cases, euthanasia may be the only option.
A new puppy - happiest days or worst nightmare?
New puppy
Having a new puppy join your family can be one of the most exhilarating experiences for a family but if not done the right way it can have disastrous consequences. People often let emotions get the better of them and don't make informed decisions. A new puppy will become part of the family for the rest of its life and you will be responsible for its wellbeing. Before getting a new puppy, there are a number of things one has to consider.
Feline Leukaemia Virus (FeLV) infection in cats
Feline Leukaemia
Introduction
Feline leukaemia (FELV) is a disease of cats caused by a virus called a retrovirus. It is called a retrovirus because of the method it uses to replicate inside the cat. It is the same type of virus as the human immunodeficiency virus and although there are a lot of disease similarities, several studies have shown that the disease is not transmissible to humans. FeLV is one of the most dangerous diseases that affect cats and is a major cause of death in cats. Fortunately the prevalence of the disease has decreased in recent years due to the use of vaccines against the disease and the ability of vets to diagnose the disease early and accurately.
Cat Aids
Feline Immuno Deficiency Virus
How does Feline Immunodeficiency Virus (FIV) compare to Human Immunodeficiency virus (HIV)?
Feline immunodeficiency Virus (FIV) has similar building blocks and is related to Human Immunodeficiency Virus (HIV), but very importantly, it cannot be passed between cats and humans. The virus can also not be transmitted from cats to dogs. Both FIV and HIV viruses share a similar pattern of disease progression. Both viruses are classified as Lentivirus, which means they have a long period of showing very few clinical signs during which time the immune system deteriorates. Eventually Acquired Immunodeficiency Syndrome (AIDS) develops and this is accompanied by opportunistic infections, systemic disease and cancer. The close relationship between FIV and HIV has meant that FIV has been used as an animal study model to better understand HIV in humans.
"Crocodile Mite" skin disease in dogs and cats
Demodectic mange in dogs and cats
Demodex is a mite that lives in the hair follicles of most mammals. It is species specific which means that different types of animals, including humans, have their own type of mite. It is a normal inhabitant of the skin and is most commonly not contagious. The mite is usually passed on to puppies from their mother in the first 72 hours of life. The puppy's immune system usually copes to contain the mite but sometimes an overgrowth of the mites occurs and this is when symptoms of demodicosis also referred to as mange are seen. Mange is a collective name for skin disease caused by different types of mites of which the Demodex mite is only one.
Understanding congestive heart failure in your pet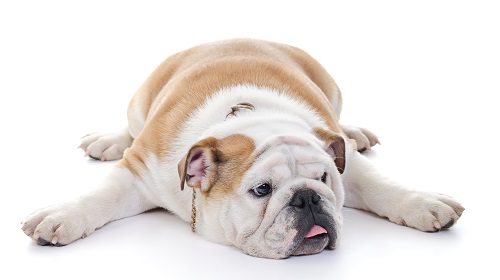 Heart Failure
Congestive Heart Failure (CHF) is a very common condition affecting our pets, and is more often seen in dogs than cats. Although it is a serious condition, and a major concern for a pet owner, it can be easily diagnosed and once diagnosed, it can be managed effectively. The important thing is to make an early diagnosis and start treatment immediately. Congestive Heart Failure can occur in pets of any age, but is more common in older animals. For this reason it is important to have annual checks done on older generation pets. First, let's have a look at how the heart works to be able to understand this condition better.
When is it more than just a tummy ache?
Pancreatitis
The pancreas is a small gland that is situated next to the stomach and first part of the small intestine in the front of the abdomen. As in humans, it performs two main functions in dogs and cats.
It is responsible for producing some of the special chemicals called enzymes which aid in the digestion of food. Enzymes are usually inactive within the pancreas. They are activated when they are released into the small intestine through ducts. Enzymes break down the food into smaller particles which can then be absorbed through the intestinal wall into the blood stream.
The other main function of the pancreas is to help regulate blood sugar. The pancreas produces special messengers called hormones. Insulin is one such hormone. These hormones tell the body when to release or store glucose into the cells.
Sometimes the digestive enzymes are released within the pancreas, instead of within the small intestine. When this happens, it causes severe inflammation and death of some of the pancreatic cells. This can affect surrounding abdominal organs, such as the liver. When inflammation occurs it is usually very painful and is described as pancreatitis. Pancreatitis can be acute, where the inflammation is not associated with permanent damage or it can be chronic. A chronic pancreatitis results in the pancreas becoming smaller and harder than normal and this affects the function of this important organ. Pancreatitis can become very severe very quickly and cause your pet to suffer with intense pain so it is important for your pet to receive veterinary attention as soon as you suspect there may be something wrong.
Tis The Season To Be Jolly
Guidelines for Keeping Your Pet Safe This Christmas
As the end of the year draws to a close, most businesses start to slow down in anticipation of a well-needed rest. The veterinary world however, braces itself for its busiest time. The holiday season comes with a multitude of risks for animals. This occurs for many reasons, some of them are out of our control, including climatic changes and prevalence of certain parasites, but many of them can be guarded against if the pet owner is aware and vigilant.
Kidney Failure
Kidney Failure in Dogs and Cats
The kidneys are very important organs of the animal body and play an important role in the normal day to day functioning of the body. They act like a specialised type of filter by retaining the appropriate amount of different salts (electrolytes) to maintain fluid balance in the body. They secrete a hormone which is involved in the production of red blood cells. The kidneys are also responsible for getting rid of waste products through the urine, especially those that are produced by the breakdown of protein in food. Kidney failure starts as soon as the kidneys are damaged due to disease, damage or old age, however in animals most owners only start seeing the clinical symptoms of kidney failure once more than 70 to 75 % of the kidneys have been destroyed or damaged. This means that of two kidneys, as little as only half of one is functioning normally before the signs of kidney failure become evident. At this stage the kidneys can no longer adapt to maintain a normal fluid and electrolyte balance in the body, and are no longer able to expel toxins as efficiently as before. The challenge with treating kidney disease is that the kidneys do not have the capacity to regenerate like other organs like the liver. This means that it is very important to look out for the symptoms of kidney failure so treatment can commence as soon as possible to preserve as much of the kidneys as possible.
Socialisation - The Critical Period
Socialisation of pets
Vets recognise the importance of looking at animals not only from a health point of view, but from a holistic point of view where the animal's health is but one part of the overall wellbeing of the animal. Aspects like nutrition, shelter, behaviour and training form as an important part of an animal's overall wellbeing as the physical and medical condition of the animal. Our domestic pets are kept as companions and the success of a pet in a household is not only measured by its longevity and health, but also how it fits into the home and interacts with the rest of the members of the household. More importantly, most pets do not stay confined to their home all the time, but often go out with the owner and interact with other animals and human beings. Just as there are rules for humans for good and acceptable public behaviour, so there are rules for good animal behaviour.
Hand Rearing Young Animals - A Basic Guideline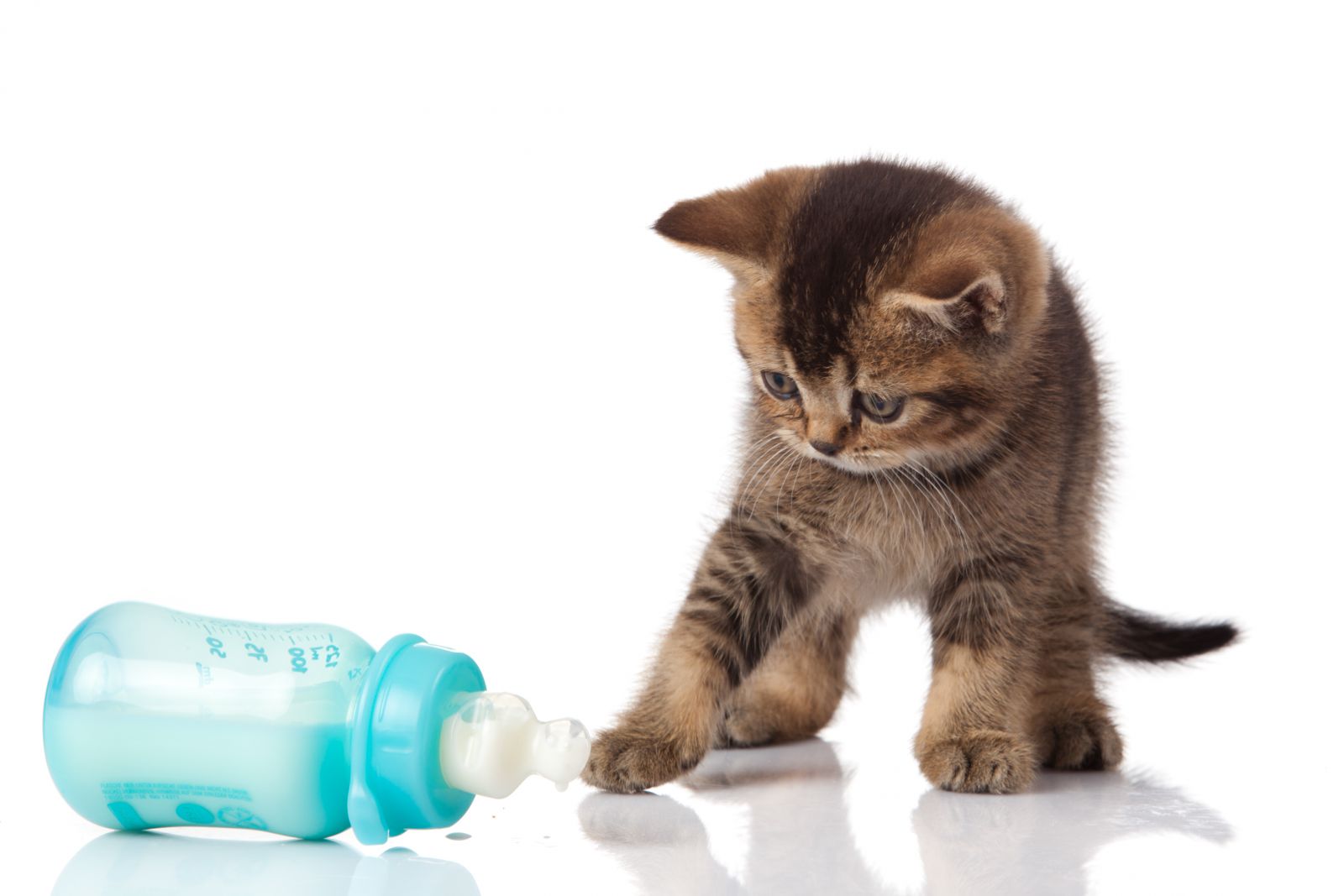 Hand Rearing Animals
The birth of a litter is a very exciting event, but it is also a huge responsibility for the owner, as many things can go wrong. Besides the birth process itself, problems can occur with the young animals due to birth defects, infections, or insufficient mothering care. In these cases hand rearing may be necessary.
There is a huge amount of commitment required for hand rearing. The main principles of concern are providing correct nutrition; temperature control; good hygiene; and monitoring urination and defecation.
Ear Infections in Your Pet
Ear infection
Ear infections are common in dogs, and to a lesser degree in cats. The anatomy of the animal predisposes them to this condition. The ear canal of the dog and cat follows the shape of an "L", going first downwards and then horisontally. This shape makes it difficult for debris and water that go into the ear to come out, against the force of gravity.
Do cats get colds?
Snuffles - Feline Rhinotracheitis
Just like humans and most other domestic animal species, cats can also catch colds. In cats, this disease is referred to as Snuffles – quite an apt name for all the sniffing and snorting associated with this disease. The learned name for this disease is Feline Rhinotracheitis. This name describes the disease well;
Do Dogs get colds?
What is cracking with Kennel Cough?
Canine Infectious Tracheobronchitis, or as it is more commonly known, Kennel Cough, is an upper respiratory tract disease of dogs that is found throughout the world. Breaking down the names of disease gives an indication as to how, and which parts of, the respiratory tract are involved.
The Hype about Hyperadrenocortism
Cushings Syndrome in animals
Hyperadrenocorticism, or Cushing's Disease, is a condition whereby the level of cortisol in the body is too high. It is a condition which is also found in humans and the name Cushing's Disease or also commonly known as Cushing's Syndrome comes from Harvey Cushing, who in 1912, was one of the first physicians to report a patient affected with excessive cortisol hormone also otherwise known as glucocorticoid.
Diabetes Defined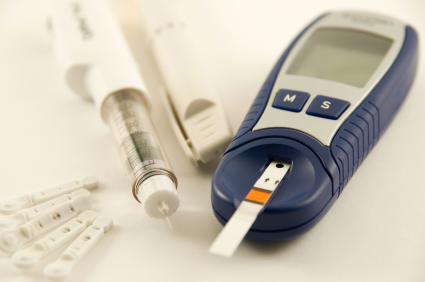 Diabetes in dogs and cats
The pancreas is an organ in the body which is closely associated with the segment of intestine that leaves the stomach. The pancreas releases enzymes involved in digestion as well as hormones with specific functions. One of these hormones is insulin. Insulin is released from the pancreas in response to the intake of food, especially carbohydrates and to a lesser degree fats and protein. Insulin circulates in the bloodstream and facilitates the uptake of the ingested nutrients into the body's own stores of energy.
My pet is having a fit! - Seizures in Pets
Seizures in Pets
Anyone who has ever seen an animal experiencing a seizure will know that it is a "hair-raising" event. Seizures or 'fits' is a well-described phenomenon in domestic pets. The way in which a fit or seizure presents can vary significantly, from what seems to be a brief moment of absent-mindedness to full blown body contractions where the animal is semi-conscious and lying on the ground shivering, shaking and convulsing, with foam coming out the mouth and looking like it is busy dying. Owners, and even vets who may have seen such seizures in pets quite often, still find it disturbing at the best of times.
Cancer in pets - Part 2 of 2
Cancer
The treatment of cancer in pets has become a significant part of the therapy provided by veterinarians to keep our pet population healthy and thriving. Depending on the modality used, the type and extent of cancer treated, and the size and the nature of the animal involved, cancer treatment can be very expensive. Therefore, as with any disease, the principle of prevention is better than cure holds true. Not all cancers can be prevented but there are certain types of cancers which can be prevented and others that, if treated early on, require much less invasive treatment and therapy, than cancers which are left to develop.
Children and pets
Children
Children and pets are synonymous. Most families at some point in time acquire a pet for their children. Be it goldfish, pocket pets like hamsters, mice, gerbils or guinea pigs, birds, dogs, cats, rabbits or even something exotic like a snake, a tortoise, bearded dragon or iguana. Pets come in all shapes and sizes and often times they are given to a child as a gift. Sometimes the child has not asked for a pet and receives one without receiving proper instructions on how to care for it. Many times children will beg and nag their parents for a certain type of pet, and eventually wear the parents down with their continuous nagging to the point where the parents cave in to the demands of the child to preserve the peace. This peace only lasts for a very brief moment before the parents realise that they made a big mistake.
Cancer in pets - Part 1 of 2
Cancer
The battle against cancer in humans is as old as mankind itself. Since veterinary medicine became a fully-fledged discipline in the previous century, this battle has been extended to animals, and more so than any other area of veterinary medicine, to our pets. Many animal owners who are confronted with cancer in their pet for the first time, are somewhat surprised to find out that cancer is as prevalent in animals as it is in humans. Once they have overcome the initial shock, they find it even more surprising that cancer in animals is treated very much the same way in animals as in humans.
Smelling as fresh as a spring breeze
How to bath your pet

Human hygiene and animal hygiene are worlds apart. Whatever is considered to be clean for humans is totally something else for our pets. Dirt may easily be disguised in the thick (or thin) coat of a pet and only once the animal is washed do we really see how dirty they are.
Cats spend their days and nights grooming themselves. However many cats love taking a dust bath and will revel in the opportunity to curl and then wriggle on their back from side to side on a nice patch of bare soil.
Fireworks and Thunderstorms and your pet
Anxiety Attacks in pets
Anxiety and angst is as much part of the animal world as it is of the human world. As humans, the way in which we manage stress and anxiety is largely related to our understanding of our environment and an interpretation of cause and effect. Unfortunately this is not the same for animals. A human who is about to set off a large fire cracker can warn all those around them of the impending bang, and prepare everyone for the impact. However explaining to a dog or cat that the glitter of a burning fuse will lead to a thunderous crack to which they should not respond, is impossible. Add to that the anatomy of animals' ears which have been specifically designed to amplify sounds by turning the ears towards sounds, and you have a recipe for disaster when it comes to shooting off fireworks in the vicinity of animals.
New puppies and kittens - Part 3 of 3
Breeding with my dog or cat � Should I or should I not?
Nobody will dispute the cuteness of puppies or kittens. These adorable little creatures really pull at the heartstrings and appeal to young and old. However spending some time in a puppy or kitten shelter and seeing what undernourished or uncared for puppies or kittens look like, will make anyone who is serious about the well being of animals think twice about indiscriminate breeding.
Frequently Asked Questions about Rabies
Rabies
How often must I vaccinate my dog?
Puppies should be vaccinated at 3 months old with a booster vaccination required a month later and a booster given within 12 months of original vaccination. Thereafter animals who live in Rabies endemic areas like KwaZulu Natal should be given a rabies vaccination every year and animals living in non-Rabies endemic areas every 3 years by law, but preferably also yearly, because in places like Johannesburg which is non-Rabies endemic there have been several outbreaks of Rabies in the past few years.
Rabies
Important information about Rabies and who to prevent it
Rabies, a fatal disease of humans and all other mammals, is caused by a virus which has been associated with animal bites for more than 3 000 years and it is the oldest infectious disease known to medical science. Dogs have long been recognised as the main transmitters of the disease to people. When compared with other formidable human diseases such as Bubonic Plague and Smallpox, and animal diseases such as Rinderpest and Anthrax, Rabies has probably never caused comparably high numbers of deaths in humans and animals. However, the horrendous manner in which Rabies manifests itself in its victims continues to attract the attention of scientists, health and veterinary workers. The true scale of Rabies in South Africa remains clouded by the many thousands of people protected by post-exposure treatment each year after Rabies exposure and the undiagnosed human and animal Rabies cases not reflected in official statistics.
New puppies and kittens - Part 2 of 3
Pregnancy, birth and aftercare
Gestation (Pregnancy)
Dogs are on average pregnant for 63 days after fertilisation has taken place. It may be difficult to determine exactly when a bitch fell pregnant if multiple matings took place over a number of days and therefore pregnancy may seem to be longer than 63 days, sometimes up to 72 days. Sperm can also stay alive in the female genital tract for a few days and therefore fertilisation may happen a day or two or even up to a few days after mating.
New puppies and kittens - Part 1 of 3
Heat and Mating in dogs and cats
Few things in life are cuter than a puppy or kitten! If you would like to let your dog or cat have a litter of puppies or kittens there are a number of things you need to know in preparation for the process.
The Heat Period
"Coming into season" or "going on heat", is the time in a female dog (bitch) or cat's (queen's) life when they are receptive to a male animal and can mate to reproduce. Dogs and cats normally come on heat for the first time somewhere between the ages of 5 to 9 months. Smaller dog breeds mature earlier than larger or giant breeds, and will usually come on heat between 5 and 6 months of age. Large and giant dog breeds will usually come on heat after 6 months, sometimes only around 9 months of age. Cats on the other hand may in actually fact come into season as young as 4 months of age and therefore proper "family planning" is very important.
Urination problems in cats - Part 2 of 2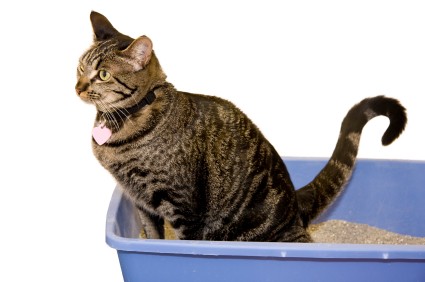 Territorial marking and Urine elimination
In part 1 of this article we looked at the difference between urine marking and inappropriate elimination in cats, and urine marking was discussed in more depth. In this article we will look at the reasons for inappropriate elimination as well as the diagnosis and treatment of both inappropriate elimination and urine marking.
In order to understand disease of the urinary system it is important to understand the anatomy of this system. The urinary system comprises two kidneys which are linked to the bladder by two tiny tubes called the ureters. The ureters terminate in the lower part of the bladder commonly referred to as the neck of the bladder. The bladder is a balloon like structure which can expand to many times its empty size when it is filled with urine. The main tube taking urine from the bladder to the genital organs is called the urethra. The urethra terminates in the vagina in female and in the penis in males.
Urination problems in cats - Part 1 of 2
Territorial marking and Urine elimination
Ask any cat owner and they will tell you that cats are not just small little dogs. So naturally a fair amount of the medical problems cats suffer from are unique to this species. In this two-part series we are going to explore one of the more common problems that affect cats.
Getting the most from your visit to the vet
Visit to the vet
Everybody wants value for money. No one will deny that it is no different when taking your pets to the vet. We love our four legged and feathered friends dearly, but like everything else in life, most of us have to budget for their expenses, and make sure we derive as much value out of a visit to the vet as possible.
The starting point of deriving value for money is to be courteous to the staff working in a veterinary practice. Being rude and obnoxious with the staff of the veterinary practice (especially the reception and support staff) will not endear you or your pets to them, and if you get their hackles up before the vets have even seen your animal, the total experience of visiting the vet is likely to be compromised in the long run.
Poisoning in Pets - Part 2 of 2
Poisoning
We know that rat poison will kill a rat, but….., "Will it harm my cat or dog?" people often ask the vet? The answer is an emphatic YES. As a matter of fact, there are quite a few other common household items which can be lethal for dogs, cats, pet birds and pocket pets like hamsters and mice.
Conventional Poisons
There are many different rat poisons available on the market but the most common variety is the anticoagulation type. It prevents blood from clotting. It has a slow onset and eventually in higher and repeated doses will cause the animal to start bleeding internally and lead to death. Both short and long acting formulations are available and signs of poisoning can be seen 5 – 7 days after the patient ate rat poison. Outward signs of bleeding, such as nose bleeds may be seen, however many animals will bleed internally into the chest or abdominal cavity without any signs of external bleeding. Death eventually results from suffocation (bleeding into the lungs) and/or the shock from blood loss.
Poisoning in Pets - Part 1 of 2
Poisoning
"Surely if a medicine is safe for use in humans it should be safe for use in my pet", vets often hear from pet owners. Nothing could be further from the truth and some human medicines and even some fruit and vegetables and sweets daily eaten by humans, can be deadly to our dogs, cats, pet birds and pocket pets like hamsters and mice.
Battle of the Bulge
Obesity
Most people, at some point in time, struggle to shed some extra weight. Obesity in humans has reached epidemic proportions and in a study released two years ago, South Africans were classified as the third fattest people on earth. Worse than this, is the fact that obesity in pets is following this trend and fast becoming a disease on its own. Some studies show that more than 50 % of pets are overweight. This alarming figure effectively means we are "killing our pets with kindness." Obesity is defined as an accumulation of excessive amounts of body fat. Body fat increases when the amount of energy taken in (by eating food) exceeds the amount of energy used (by exercising). Vets classify a pet as obese if the animal weighs more than 15 to 20 % of his/her ideal body weight. Body Mass Index or BMI which is commonly used in humans to define obesity is not commonly used in animals, because there is such a huge variation between and within different breeds. In animals, a Body Condition Score or BCS is referred to in terms of the animal's ideal weight.
Tiny but deadly
Ticks
Living in a warm and sunny country is great, but with it comes all the parasites and diseases associated with a warm and/or tropical climate. One of these little scourges can be found nearly all over South Africa, namely ticks. Most people have at some or other time encountered a tick on their pet. This can be quite distressing – especially if you consider a disease like biliary (tick fever).
Arthritis Treatment and prevention - Part 2 of 2
Arthritis
In part one of this two-part article, we looked at the signs and diagnoses of arthritis in pets. In this part of the article, we will look at the treatment and prevention of arthritis in pets. With the advancement of technology and medicine, arthritis is no longer a death sentence. Our beloved pets can benefit from a range of surgical and medical treatment. As mentioned in part one, it can never be stopped or cured but arthritis can definitely be managed and symptoms relieved to give your pet a pain-free life.
We're all going on a Summer Holiday
Traveling with your pets
Going on holiday is always fun but we must never forget or neglect our pets in the excitement leading up to a well-deserved vacation.
When going on holiday find someone to look after your pets while you are away. It will be a good idea either to get a house sitter or place your pets in a kennel over the holidays as medical problems can just as easily arise when you are not at home. Giving the vet notice of your impending holiday and making arrangements for someone to take your pets there in case of an emergency is an important part of your holiday planning. Also, stock up on enough food and make sure your pet has enough medicine if they are on chronic medication.
Arthritis Signs and Diagnoses - Part 1 of 2
Arthritis
So what happens when your beloved canine friend does not want to go for his walk anymore because he is too sore the next morning?
Unfortunately, older pets, and these days even puppies, get afflicted by a condition commonly known as joint disease. This is the same problem we as humans suffer from as well, better known as arthritis. In dogs and cats and more commonly in larger breed dogs, it is concentrated in the hip, knee, shoulder and elbow joints. The spinal column and back vertebrae (backbones) can also be affected.
Scratch scratch scratch - Part 2 of 2
Skin conditions
In the first part of this two-part series we looked at the complexity of itching and scratching in pets and the fact that although the symptoms eventually manifest in the same way i.e. itching and scratching, there could be many different causes for it. Itching or pruritis, as vets call it, can be described as the sensation that elicits the desire to scratch. The skin, being the biggest organ in the body and acting as a sort of outer nervous system, provides feedback to the brain of things like temperature, touch, pain and itching through a network of nerve endings.
Scratch scratch scratch - Part 1 of 2
Skin conditions
Vets often hear this complaint in the examination room, where clients complain about the incessant itching and scratching of their pets. This is a more common complaint with dogs where the nightly thump, thump, thump of a hind limb hitting the floor keeps the owner and the dog awake for hours. If it is irritating and hard wearing on the owner, then equally so, if not so much more for the affected pet. Skin problems in dogs and cats make up by far the biggest number of cases seen by vets. This is understandable given the fact that the skin is the biggest organ in the body. By definition, it is also the organ which has the greatest exposure to the environment.
A killer disease with a misleading name
Catflu
The name of a particular disease is often influenced by the circumstances around the original occurrence of such a disease. For example "sleeping disease" in humans was originally associated with the green fever trees found in low lying areas around South Africa. As time went by and a better understanding of the disease became apparent, it became clear that the disease was transmitted by Tsetse flies and had nothing to do with the trees. Similarly there is a killer disease in dogs with a misleading name – CATFLU. When the disease was first diagnosed in the late 1970's, it was thought to be a disease transmitted from cats to dogs. Later it was discovered that cats did not harbour the offending organism causing the disease, but an extremely small yet resilient virus called, Parvo virus in actual fact is responsible for the disease.
Animal Emergencies
Emergencies
An animal emergency can roughly be defined as an incident or condition which, once it occurs, if left untreated for more than an hour, will lead to death. Most emergencies have an acute nature or onset and leave little room for preparation and decision making. We therefore have to prepare for them in advance, and be ready to take action as soon as the emergency occurs. For one thing, it will mean that you will have to have the vet's emergency number on your mobile phone or readily available. The sooner you can get in touch with the veterinary practice and alert them to the fact that you have an emergency and they need to be on standby and ready to assist as soon as you arrive at the veterinary practice, the better the chances of survival of your animal.
Your pet's once a year health check-up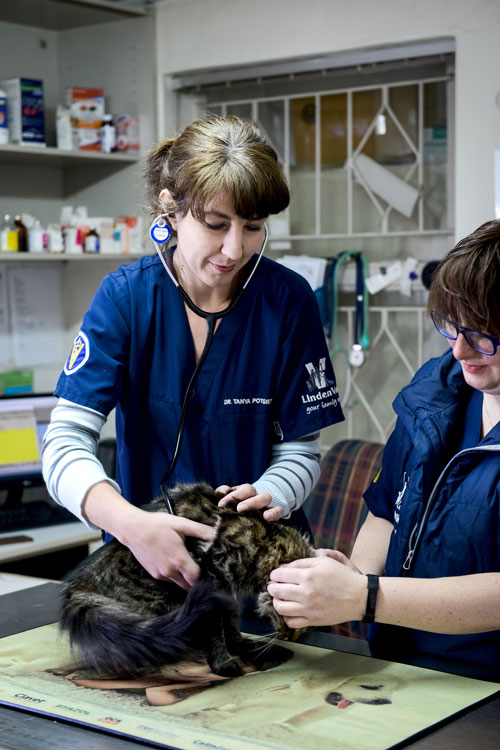 Annual Check up
Many people wonder why vets recommend having a once a year check-up for pets. There are many reasons but probably the most important is that the average dog or cat ages by approximately seven "dog/cat years" for every human year. It may differ slightly from breed to breed and usually cats and small breed dogs age slower than large breed dogs. The average life expectancy of a large breed dog is about twelve years whereas cats and smaller breed dogs can quite comfortably live to eighteen years. Just like in humans where the average life expectancy has increased dramatically over the last twenty years because of better healthcare, proper nutrition and a general improvement in living conditions, so has the life expectancy of our pets. Animals which are kept as domestic pets live a much more sheltered lifestyle than their wild counterparts, where there is little protection from natural predators and harsh environmental conditions. Nutrition for pets has also become a much more advanced science than in years gone by and these days it is quite common to find specialised diets for life stages, breed types and conditions. The average quality of life and life expectancy in large breed dogs who suffer from arthritis has been substantially increased because of specialised diets catering for their particular needs.
Behaviour difficulties
Behaviour
"Man's best friend." The reason why dogs have been described like this over centuries is because of their unwavering loyalty and their good nature towards humans. However now and again, behavioural problems crop up in pet dogs which cause many people to dispute whether dogs are really man's best friend. Behavioural problems can range from aggression, to destructive behaviour like chewing and digging, to house soiling. Some of these problems can be blamed on uninformed and uninvolved owners who do not spend the time to properly socialise and do basic training when they first acquire their dogs as puppies.
Spaying / Neutering your pet
Spaying & Neutering
People will often refer to sterilising an animal or alternatively called spaying or neutering of a pet as a "snip-snip". This makes it sound like it is a quick, outpatient procedure, which only takes a few minutes and only cost a few rand. Nothing could be further away from the truth. Spaying or neutering pets is a full-blown surgical operation which requires a general anaesthetic.
Vaccinating your puppy and kitten
Vaccination
Getting a new puppy or kitten is always exciting and most of us just want to cuddle this cute little bundle of fur. It would be lovely if this were enough to keep them healthy and disease free forever but unfortunately it isn't. Just like human children, animal babies also need immunization when they are very young.
A newborn puppy or kitten isn't naturally immune. They do have some antibody protection that they received through the mother's blood via the placenta, but this is roughly only 10%. The other 90% is through the first milk they take in from their mother. This milk is called first milk or colostrum because only the milk produced in the first two days after birth contains antibodies (called maternal antibodies). These antibodies are like little soldiers standing ready to counter any attack from a virus (the enemy). The intestinal lining of the newborn starts changing 6 hours after birth and starts losing the ability to absorb these antibodies. It is therefore very important for new puppies and kittens to start suckling as soon as possible after birth. The newborn is only able to absorb these maternal antibodies for the first two days of its' life. Proper vaccination of the mother will ensure that she has proper antibodies levels which can then be passed on to her babies. If for some reason the puppy or kitten did not receive this precious colostrum (fostered pets, bottle fed pets or perhaps failure of the mother to produce milk), they will be at a greater risk of contracting disease.
The worm you did not know about - Spirocerca lupi
Worms
Most people do not know about this little worm. It has a strange and difficult name and an equally strange life-cycle. Normal deworming remedies do not kill this parasite and most people do not even know when their dog is infected with it. This article will try and shed some light on the how, what and where of Spirocerca lupi.
Spirocerca lupi is a roundworm. It is red in colour and 40 – 70 mm long. The eggs contain the larvae and have the shape of a paperclip. The eggs and larvae are passed from one host to another and this process normally starts when an animal passes the eggs in its stools. For example, a dung beetle ingests the eggs while working with or rolling in infected stools. The larvae then hatch inside the dung beetle and develop into more mature forms. A bird, lizard or another small animal might eat the dung beetle and then become infected with the larvae. Your dog will then become infected by eating the bird or lizard, called an intermediate host. This disease has not yet been seen in cats.
Periodontal disease in dogs and cats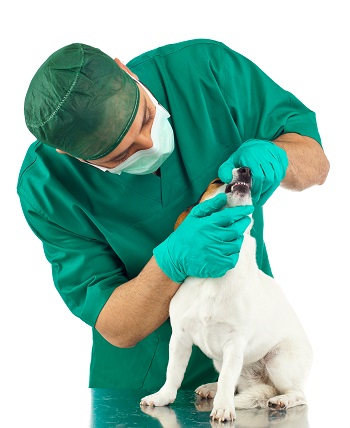 Dental Care
"My dog/cat has bad breath!" This is probably one of the most common complaints vets hear from pet owners. Halitosis (bad breath) can be caused by many things, but is most often related to dental disease.
Nowadays pets are part of the family. They sit next to us on the couch when we watch television, they sleep with us in our beds and we even take them on holiday – they are practically human! This means we take better care of them and they therefore live much longer. Fortunately, as a result of this close relationship, we notice problems like bad breath much earlier (one cannot help but smell something if you share your pillow with a furry friend) and we can do something about it so much sooner.
The infallible flea
Fleas
Fleas are the most common pests on our pets. The immature stages (larvae, pupae) can survive for a long time in crevices, sofas, dog beds and carpets, just waiting for the right circumstances (e.g. heat, humidity) to hatch and cause mayhem. Then they not only irritate our pets but can also cause discomfort in humans. Many people will tell you that getting rid of a flea infestation in your home can be quite difficult and costly.
The no-good, the bad and the ugly
Worms
Few people can hear the word "worms" without cringing – especially if it is related to a beloved pet. Unfortunately, parasites living in the stomach and intestines occur all too common in our dogs and cats. These parasites live in the digestive tract, causing damage and robbing your pet of much needed nutrients. The amount of damage they cause depends on the type and number of worms your pet has.